ATTIC TENT 25"x54"x7"
What Is An Attic Tent ®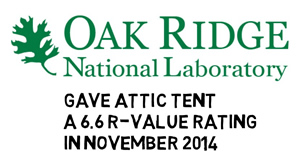 The Attic Tent ® is the ultimate attic access insulation cover ever invented (attic stairs, scuttle holes, knee-wall doors, and full-size doors.) Its primary design is to stop air infiltration between the home and attic, the most common medium for wasting costly residential energy, during both hot and cold seasons. The HVAC systems in homes are designed for a closed envelope making air balancing with supply and return air, very critical. Every time these systems are operating they create a positive or negative pressure, thus forcing conditioned air out or drawing outside air in the home. It also keeps out unhealthy insulation and dust particles from the attic.
*** Quality guaranteed with our new 10 year product warranty***
The Attic Tent is a specially engineered, patented insulator designed to create an air transfer barrier between your attic and living areas.
Main Materials: Nylon Fabric and Polyurethane Form + Flame Retardant AT-2 - Dimensions 25" wide - 54" length - 7" height clearance with a 2" mounting Flange.
Note: This is the most Standard commonly used size used for fold down attic stairs Used for fold down attic stairs, scuttle Holes and Knee wall doors.
FREE SHIPPING ON CASE QUANTITY ORDERS, 5 UNITS PER CASE. The shipping cost will be refunded at ATS after checkout.
Attic Tent
The Tent arrived promptly. The Attic Tent is exactly as described. We recently added additional insulation in our attic. The pull down stairs left gaps and insulation would fall through whenever you pulled down the access door. We followed the instructions and the Tent was put in place in no time. Very quick and easy. We used an electric staple gun to secure. Zipped it up and no insulation falling at all. It has also helped with the temperatures in the garage, as there are no air gaps from the attic pull down door allowing the hot air to come through. Highly recommend. Great Product. - Anonymous