FOUNDATION VENTS HY-C 10.5"x18.5"
Made in the USA, our easy-to-install HY-GUARD EXCLUSION Foundation Screens provide a clean, professional exclusion solution!
Measuring 10.5" x 18.5" and featuring a sturdy 1" galvanized laser-cut and hemmed steel frame for extra strength, our 18-gauge ⅜" expanded metal mesh welded insert excludes wildlife. But we don't stop there! HY-GUARD EXCLUSION's one-piece, laser cut, galvanized steel frame, with ¼" pre-drilled holes, saves valuable installation time.
Foundation Screens are available in our durable white, gray, or black powder coat finish. They can be painted to match any color though
One-Piece Laser Cut Galv. Steel Frame

Pre-Drilled 1" Frame with Hemmed Edges

Welded 18-Gauge Expanded Metal.

Mesh holes are 3/8" wide, by 1/2" long, and will keep mice out.

Provides a Clean, Professional Exclusion Solution

Durable Black, Gray or White Powder Coat Finish

Paintable

Made in the USA

7-Year Limited Warranty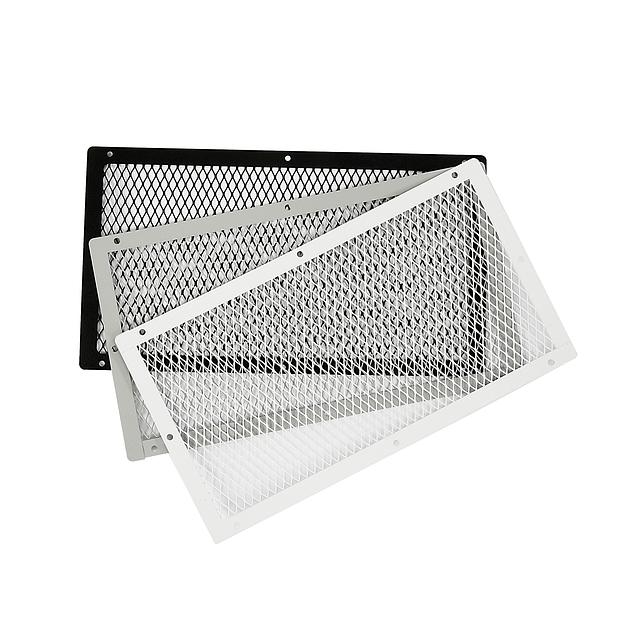 Great product
Very easy to install and looks great. - Trapper Tim
Awesom
Great product and ATS has an awesome staff and costumer service. - Anonymous
Foundation Vent Covers
Priduct as advertised. Prompt shipping and delivery. - Ed
Great Vents
Living on the west coast near the beach is a bit unforgiving on metal products in general. Yes, they show rust 2.5 years later but metal integrity is still intact. I purchased a second set just in case and have painted them with enamel paint in hopes of slowing down the process. What's strange is that some of them look fine but others show rust. Must have something to do with airflow underneath the house. Still a great product. Animal Traps is a good outfit with fair prices. - Anonymous
Vents
My husband installed as soon as we got them they are working great! They were shipped right away. Could not be any Happier!!! Thanks - Anonymous
Great Product
Ordered these foundation vents through ATS. No issues with the shipment. Delivered as promised. So far they are working to keep the critters out - Anonymous
Foundation vents
I love my foundation vents, they add to the appearance and aesthetics of my home. I purchased
them to deter critters from getting under my home and the foundation vents have stopped them
in their tracks. Customer service is very good and the product arrived at my home in a timely manner. - John
Exactly what I needed
Found these crawl space vent covers at the end of a long google search. I have irregular shaped openings in my brick and the standard vents and vent covers from big box stores wouldn't do the trick. Promo shipping, even the week of Christmas. - Anonymous
Simple and easy
Look great when installed correctly! - On Call Wildlife
Foundation vents
Great everything was on time as promised. - Larry mathis