REED JOSEPH BIRD BANGERS (100)
Price

$105.00 EACH

Reg Price

$120.00
An excellent tool to scare birds and wildlife from crops, landfills, fish farms and feed lots. Launched from a Single, Double, or Seven Shot Launcher with the aid of a 6 mm primer, the 15 mm Bird Banger travels 50 to 125 feet before exploding with a loud report.
100 - 6mm blank primers included with each order.
We also recommend Safe Storage for your Bird Banger cartridges, preferebly a weather proof storage magazine which provides some level of protection from fire and theft. Insert the fuse end into the barrel, the end with the black strip.
NOTE: Wildlife Control Statements must be on file in our office before shipment of pyrotechnic devices. Bird Banger cartridges do not require an ATF Permit, but our Wildlife Control Statement is required for purchase.
Click here to download this form.
There is a NO RETURN policy on all pyrotechnic orders.
These must ship FedEx regular ground, no next day or two day air shipping.
Price includes the hazardous material fees.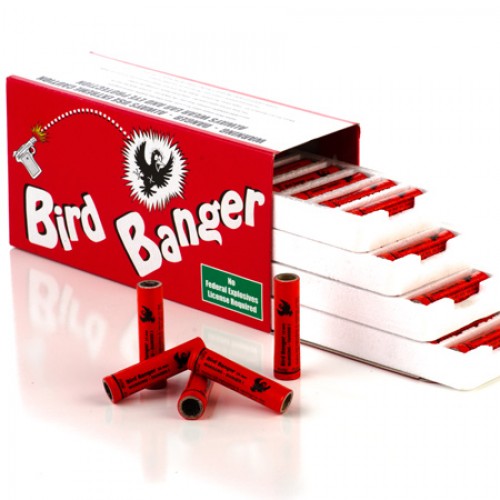 Bird Bangers
We are Vegetable Growers in a country setting so we get Animal pressure from Elk & Geese these Bangers help Haze them off of our fields during the day and also in the night (infrared scope to pinpoint elk) to get them to leave our fields. We can't shoot a gun in the dark so the Bangers let the Elk know that we are around. Thank you - Burr
Bird bangers
Product works as it's supposed to for the application it's designed for I'm pleased with using these products as an alternative to other lethal means of pest control. Great customer service and fast shipping was a plus as well. Keep Up the good work providing you're customers With What they need in a timely manner. - Anonymous
Awesome
Amazing products! - Chris Kebberly