Ztrap - No. 6 SKUNK-N-MORE Live Trap - Green
Ztraps, "Spray Proof" Skunk Trap is an effective & humane method for capture and release of nuisance skunks.
The 6" PVC tube limits the skunk's ability to lift its tail. "If skunk cannot lift its tail, it cannot spray" The enclosed confines of the tube keeps the animal calm and prevents the trapper from being scratched, bitten or sprayed.
This tube trap features removable doors on BOTH ends of the trap. The rear panel slides out, allowing you easy access to the bait pan. Verifying and releasing your catch easier, as they can now leave from either end of the trap.
Cleaning your trap is a breeze, just slide the doors off and rinse. No more hidden areas for bait, or droppings to hide.
Skunks can NOT lift their tail in this trap - you will not get sprayed while the skunk remains in the trap.
This trap is very heavy duty with a guillotine style steel door that has been powdercoated. It is made from a 6" diameter, 3/16" thick pipe and is 24" long.
A skunk cannot spray while in this trap, they cannot lift their tail or arch their back. They can be easily transported. Great for ADC work, and heavy duty enough to be thrown in the back of the truck to move onto the next job. Or, for that pesky skunk digging under the house, the guillotine style door allows you to place the trap right up to the hole. Can also be used for squirrles, cats, oppossum or any small critter.
*Effective for catching skunks, opossum, cats, rabbits and other similar sized animals.
Free Shipping to the lower 48 states
Features:
24" long x 6" diameter PVC tube

Heavy duty, "zinc coated" steel components

Gravity activated, self-locking door

Self-setting trigger

Body style trigger design (patent pending)

Removable back door for baiting and releasing

Viewing slots on each end of trap

Oversize carry handle

Lifetime Warranty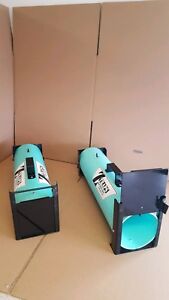 Excluded from coupons
It works
I live in town and have a skunk problem. I have had the trap 3 weeks and have caught 5 skunks, 1 possum, and 1 racoon. Bait with peanut butter. Easy to set and use. Thanks. - Kevin
Good Trap
I caught a skunk the first night, the second night a skunk chewed the rear locking bar and got it out of the hole causing an escape. the third night I caught another skunk and the forth night another skunk got out of the rear of the cage. I drilled a hole thru the rod and inserted a key ring to prevent it from being pulled out and that fixed that problem. Then the trap was being set off because of the really easy trigger so I put a washer behind the trigger nut and that fixed that issue. Since then I have caught 8 more skunks and one possum with no issues. Pnut butter on vanilla wafers is magic, marsh mellows work too, but they seem to attract raccoons more and that is a real problem. - Anonymous
No spray skunk trap
Thanks Animal traps and supplies, my order arrived quickly and I have successfully used it to capture and release 2 skunks so far without being sprayed.
Thank you. - Anonymous