SNAKE-A-WAY® SNAKE REPELLENT GRANULAR- 10 LB
Victor® Snake-A-Way® Snake Repellent Granular- 10 lb
Granules repel venomous & non-venomous snakes

Lasts 2 to 3 months after application

Apply around the perimeter of area you want to protect

91% repellent rate of garter snakes and rattlesnakes

Temporarily disrupts snakes' sensory reception without harm

Contains Naphthalene (7%) and Sulfur (28%)
Cannot Ship To: AK, CA, HI, ME, SD
Victor® Snake-A-Way® Snake Repellent Granlar has been tested by a third-party laboratory to be an effective repellent against venomous snakes and non-venomous snakes. This 10-pound bag of snake repellent can be used to protect cabins, houses, sheds, trailers, garages and flowerbeds from intrusion by rattlesnakes and garter snakes.
How Snake-A-Way ® Works
The Jacobsen's Organ is a special olfactory organ used by snakes that helps them detect environmental stimuli. In fact, the Jacobsen's Organ is a key survival tool for these reptiles. Victor® Snake-A-Way® Snake Repellent Granules affects Jacobsen's Organ, and snakes flee from a now-protected area for repellent-free air.
Easy, One-Time Application
Snake-A-Way® is easy to apply - wearing gloves, open the resealable shaker bag and while walking, spread the granules in bands along the perimeter of the areas you want to protect such as around houses, cabins, trailers, gardens, and more. The width of the band varies depending on the snake you want to repel. Bands for rattlesnakes should be 8 inches to 12 inches wide. Garter snakes will be repelled by a band 4 inches to 5 inches wide. For best results, apply as directed.
EPA Registered Snake Repellent
Snake-A-Way® snake repellent is registered with the Environmental Protection Agency and uses Sulphur and Naphthalene as its active ingredients. This means it will not have effects on humans or the environment when used as directed.
Victor® Snake-A-Way® Snake Repellent Granular-10 lb
Do you want to know more helpful details about Victor® Snake-A-Way® Snake Repellent Granular? Take a closer look at the in-depth specifications for this product.Complete Product Details »
VICTOR® SNAKE-A-WAY® SNAKE REPELLENT GRANULAR- 10 LB

Model #

VP364B

For Use Against

Venomous and Non-Venomous snakes

Presentation

Granules

Size (Weight)

10 lb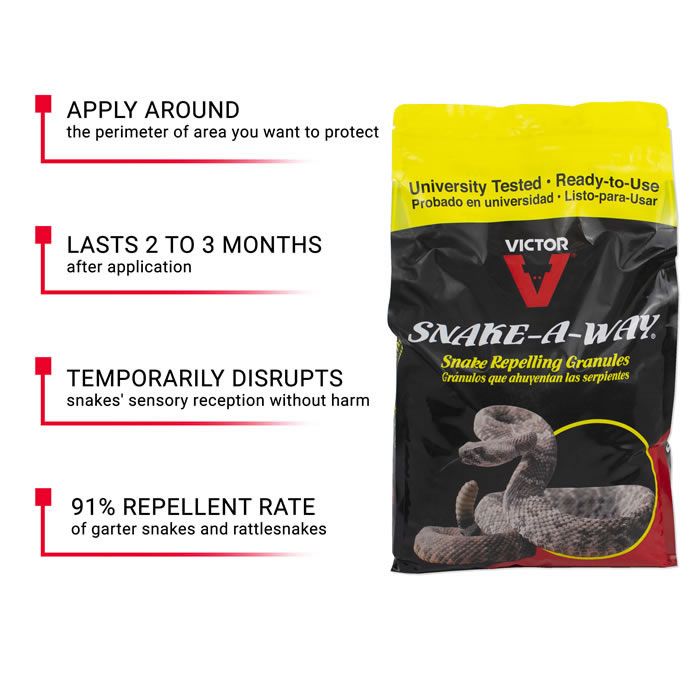 About Victor®Victor® has been a trusted name in rodent control since 1898. Since the invention of the spring-based trap over 115 years ago, we have been continuously striving to manufacture innovative, quality products that keep your family safe from the dangers of rodents. With a variety of electronic traps, snap traps and repellents available, Victor® has a broad selection of products to meet the needs of consumers.