ROOF VENT BOOT GUARD LARGE (16 PK)
Price

$270.00 EACH

Reg Price

$305.00
This easy-to-install, one-piece molded guard permanently stops costly damage to your roof vent boot and prevents leaks. Quick installation and removal allows for plumber access whenever repairs are needed.
This product is available in two sizes with polypropylene blend materials and UV protection.

Large
Covers: 3" Lead Boots
Inside Diameter: 4⅛"
Height: 10¼"
Weight: 1.20 lbs.
THIS IS A CASE OF LARGE ROOF VENT BOOT GUARDS. You can mix up your colors in a case.
Free shipping on case orders to the lower 48 states.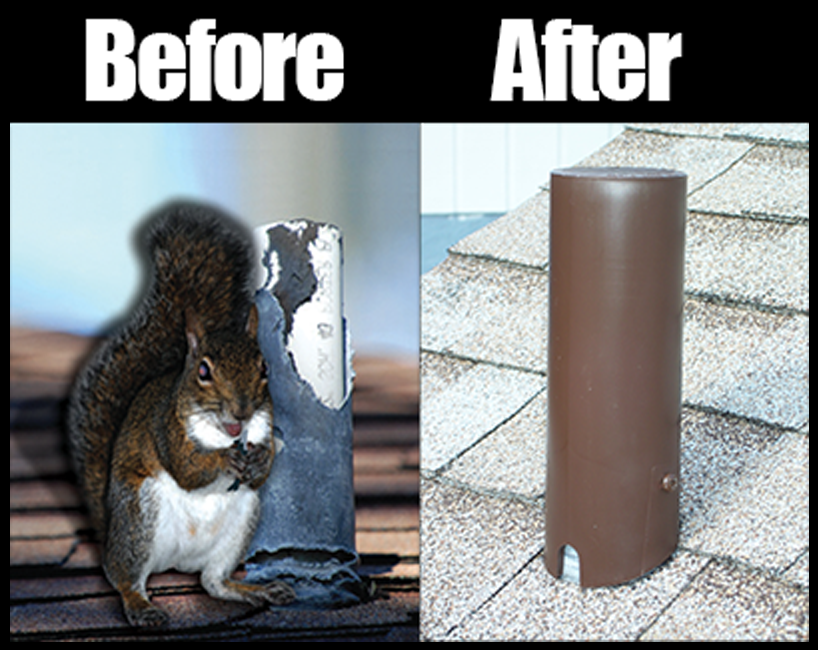 Safely & Quickly Installing the Roof Vent Boot Guard
After years of chicken wire covers, roofing tar, window screen, and zip ties, a permanent solution to roof lead boot damage is here! Keep out unwanted debris from your vents with this one-piece molded removable cover. Our vent cover features a protective grill on top and uses patented airflow technology to remove plumbing gas from your building quickly. Convenient pitch marks on the rear of the product make installation a breeze.
Installation Instructions

1. Replace the damaged lead boot prior to installing the Roof Vent Boot Guard. Make sure the lead is tightly formed around the plumbing pipe. Note: It may be necessary to form the lead boot into a cylindrical shape by tapping it with a hammer.
2. Back out set screws at base of Boot Guard. Place over lead stack. Lightly tap into place. Snug set screws into lead stack. Note: additional screws provided for use on 2 inch lead boots.

3. The pipe vent shield has already been molded to accommodate standard pitch roofs. To achieve a steeper angle, simply trim the material from the rear of the boot guard using pitch marks, which are provided on the bottom of the guard. They start at 5/12" on the bottom and end at 8/12" at the top mark.
---
Product Guarantee: The manufacturer will replace this product 10 years from the date of purchase if it fails to protect your property's lead boot from rodent damage after being properly installed.
Excluded from coupons
Top of the line customer service
This company is great, they have helped me out multiple times! - Wesley