Is a highly rodent resistant proofing strip.

Can be used for proofing all sorts of gaps including:

Threshold gaps of garage doors.

Threshold gaps of hinged swing doors.

Holes in walls with throughgoing pipes.

Other stationary gaps.

The vertical astragal gap between the 2 door leaves of double doors.
The rodent resistant barrier consists of 10 gnaw proof wires of solid stainless-steel: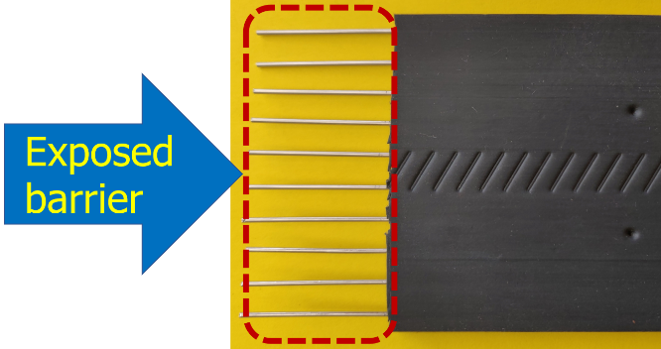 Each box contains 27 feet (9 yards) of Rodexit, you can also order 3 boxes or 27 yards as a case to save on money.
Benefits:

Great protection against pests including rats and mice.

Easy trimming with common tin snips and a Stanley knife.

Fool proof symmetrical design.

Easy and extremely fast installation.

A garage door can be proofed by a single person in less than 10 minutes.

More than 10 years durability under favorable circumstances.

Screw hole markings facilitate fast and perfect looking installation.

The RodeXit seal is environmentally friendly:

It consists of non-toxic materials only.

When pests are denied entry to a building the need for distribution of toxic rodenticides is eliminated.

It contributes positively to CO2 reduction because lots of foodstuffs and other goods are saved from being contaminated and discarded when warehouses, shops, factories etc. are rodent proofed with the seal.

If an extra high degree of protection is called for, 2 layers can be installed:

as a double layer on one side or

as a single layer on either side.

27 yd / 25 m long rolls in small handy boxes provides for easy storing, handling, and transportation.

With a roll of RodeXit seal in the back of the service van a pest control tech can fast and effectively handle most rodent proofing jobs on the spot.

Minimal trimming waste when cutting proofing strips from a roll.

Easy cleaning.

High cost effectiveness due to:

Moderate price per yard and per meter.

Easy, fast, and laborsaving installation.

Long durability.

Minimal trimming waste.

Optional use of wood strips or metal strips (e.g. aluminum carpet trims) as aesthetically pleasing mounting strips.

Full compatibility with kick plates. They can therefore serve as good-looking mounting strips.
If you want to use tape to secure the seal, please read this. https://www.animaltrapsandsupplies.com/rodexit-mounting-guide-double-sided-tape.html
Technical Specifications
| Subjects | Specs |
| --- | --- |
| Brand | RodeXit All-In-One Seal |
| Elastic main component | Extremely robust Santoprene thermoplastic elastomer |
| Rodent resistant barrier | 10 close-set steel wires |
| Steel wires | Solid gnaw proof stainless-steel wires with a diameter of 0,04 inch (1 mm) |
| Distance between the steel wires | 0.2 inch (5 mm) – i.e. too little for a mouse to squeeze through |
| Distance between the edges and the first steel wires | 0.1 inch (3 mm) |
| Shape | Flat |
| Cross sectional measures | 0.13 inch (3.2 mm) thick and 2.4 inches (62 mm) wide |
| Weight | 7.7 oz per yard (0.24 kg per meter) |
| Color | Anthracite gray |
| Screw hole markings | A set of 4 for every 4 in (10 cm) |
| Waterproof | Yes |
| Temperature range | Minus 40 F to plus 140 F (-40 to +60 Celsius) |
| Thermal expansion and contraction | Insignificant |
| Shore A Hardness | Around 80 |