REED JOSEPH BIRD SCREAMERS (100)
Price

$105.00 EACH

Reg Price

$120.00
Another efficient tool to deter nuisance birds, and launched in the same manner as the Bird Banger, our 15 mm Screamer Siren travels 250 to 300 feet, making an alarming siren-like sound as it flies.
100 - 6mm blank primers included with each order. Insert the fuse end into the barrel, the hollow end facing out.
There is a NO RETURN policy on all pyrotechnic orders.
Price includes the hazardous material fees.
These must ship FedEx regular ground, no next day or two day air shipping.
NOTE: Wildlife Control Statements must be on file in our office before shipment of pyrotechnic devices.
The 15 mm Screamer Siren makes a 100 dB screeching noise as it propels itself 250 to 300 feet down range. Not only is the Screamer Siren the most commonly used 15 mm cartridge by wildlife control experts, it is also one of the most inexpensive options available. Blank primers are included at no charge. Like the Bird Banger, choose from three different launchers.
Screamer Siren cartridges do not require an ATF Permit, but our Wildlife Control Statement is required for purchase.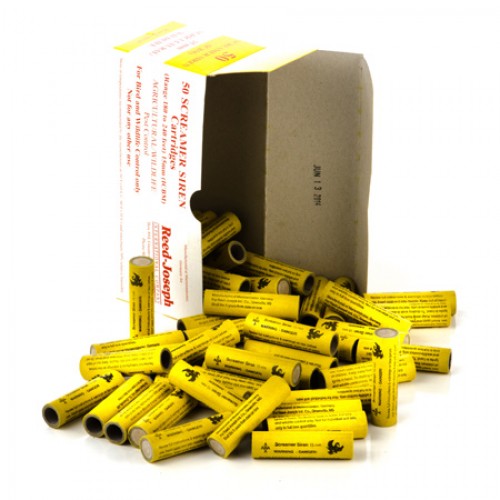 WORKS LIKE A CHARM
The hate the squealers worse than the bangers. - Randy
keybordqt@gmail.com
these are the only thing that work too scare geese into flying away.......great product - Anonymous
Bird Screamers Work
Bird Screamers are the best defense against geese on my lawn. The geese leave and do not return. - Anonymous