HAVAHART® X-LARGE 2-DOOR TRAP 1050 42"x11"x13"
Price

$59.95 EACH

Reg Price

$62.95
Havahart® X-Large 2-Door Trap
Catch and relocate large animals from your property in a secure and humane way with this Havahart® X-Large 2-Door Trap.
Designed by trapping professionals to prevent accidental triggers and escapes, it's best for capturing large animals, such as armadillos, bobcats, cats, groundhogs, nutria, opossums, and raccoons.
It includes a sturdy handle guard that reduces the risk of you making contact with the animal, and the smooth edges inside prevent animal injury.
The innovative 2-door design of this trap creates a clear, visible path for animals and increases the chance of a successful capture.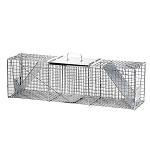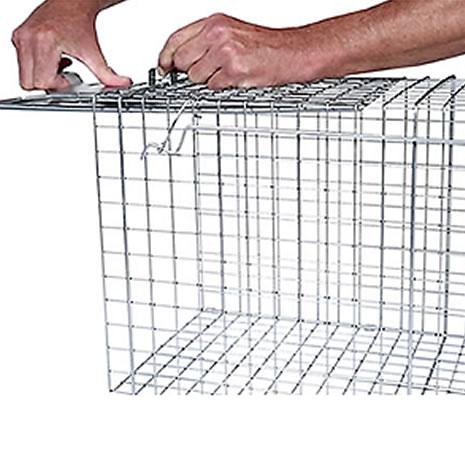 Designed by the Pros
This X-Large 2-Door Trap is designed to be the sturdiest and most reliable trap of its kind, since it's made of high-quality metal materials. Its fine-tuned tripping mechanism specially targets heavier critters and eliminates the likelihood of capturing a smaller animal. The trap is also designed to be able to stand up to the pressures of securely holding larger animals.
Safe for You and the Animal
For You: Solid doors and a sturdy handle guard prevent you from making contact with the animal, and the strong handle lets you hold the trap away from your body during transport.For the Animal: Reinforced, extra-strong door locks keep the animal safe inside, and smooth edges prevent accidental injury, such as cuts and scrapes.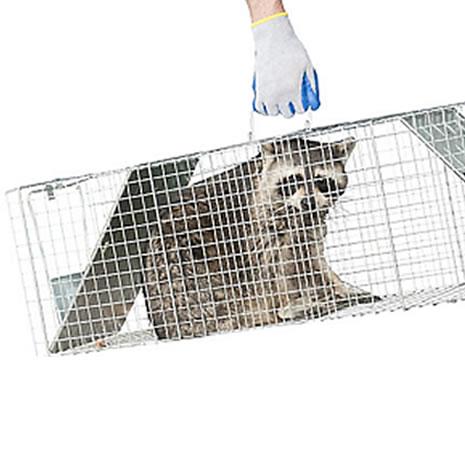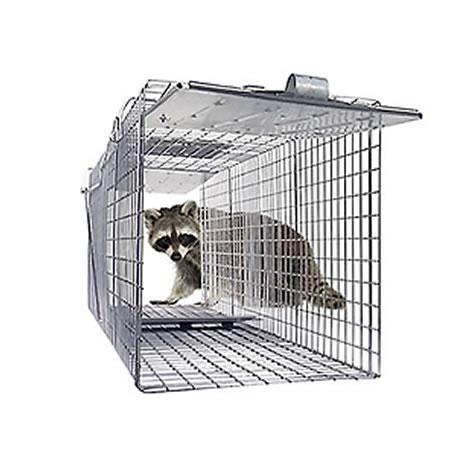 Fast and Versatile 2-Door Trap
Since this trap has two open doors, one at each end, it creates a clear, unobstructed path for the animal when it's placed against a wall or along where they travel, increasing the chances of a successful capture. The animal has to step on the trigger plate to reach the bait, and both doors close before they can run out the other side.
Traps that are Built to Last
Proudly made in the USA from industrial-strength, galvanized wire mesh, Havahart® builds their traps with strong, premium materials that offer excellent durability and resistance to rust and corrosion. Solid doors and steel reinforcements contribute to its durability and ensure a long, useful life.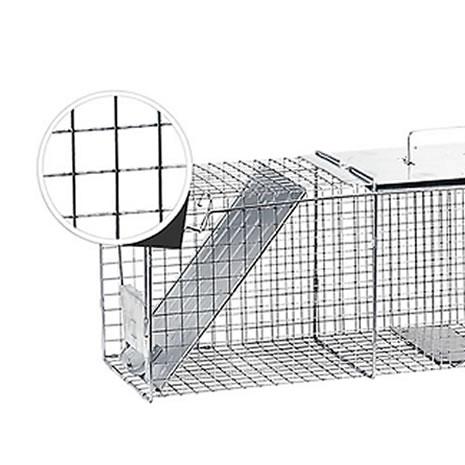 HAVAHART® X-LARGE 2-DOOR TRAP

Model #

1050

Dimensions

42" x 11" x 13"

Weight

13.68 lb

Materials

Galvanized steel

One-piece 12-gauge wire mesh

Number of Doors

2

Door Type

Spring-loaded mesh door

Best Used For

Armadillos

Bobcats

Cats

Groundhogs

Nutria

Opossums

Raccoons