HAVAHART® SMALL 1-DOOR TRAP Model # 1077 17"x7"x7"
Price

$24.95 EACH

Reg Price

$26.95
Havahart® Small 1-Door Trap
Safely catch and transport rabbits, squirrels, weasels, and other small animals with this Havahart® Small 1-Door Trap. The simple-to-use design and spring-loaded door allow trappers of any experience level to make quick and secure captures. A handle guard provides extra protection for users by preventing unwanted contact with a trapped animal, and smooth rolled edges inside help keep the animal safe when being moved. The strong, rust-resistant design makes this trap durable for lasting outdoor use so you can keep using it to trap and remove destructive animals.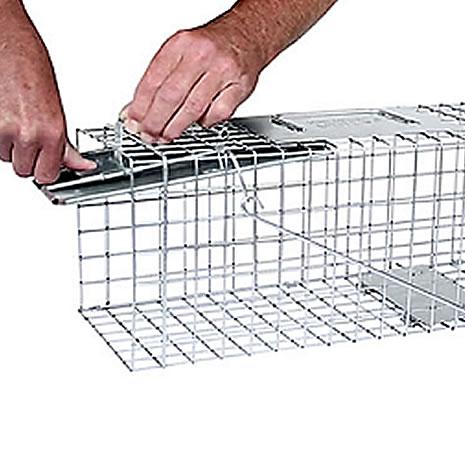 Simple Set Up and Start Trapping
This trap is easy to set up for the quick, easy, and humane removal of small pest animals. It is simple to use whether or not you have experience with animal traps. The spring-loaded door delivers quick and secure captures when an animal triggers the tripping mechanism. The trap also allows small animals to be easily and safely released in a new location.
Humane and Safe
Created to safely catch live animals, this trap offers a humane trapping option. The smooth rolled edges inside the trap prevent injuries to animals while they are being transported. The trap is also safe for users and is designed with a solid metal handle guard and door to prevent contact with animals.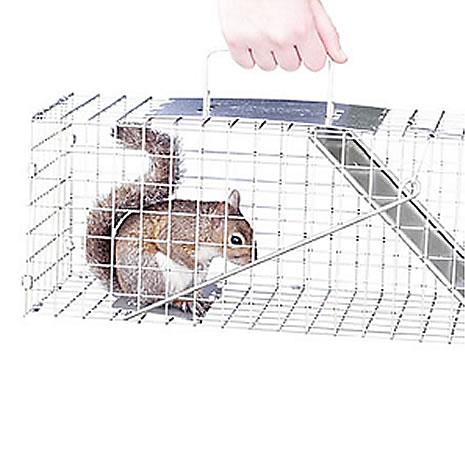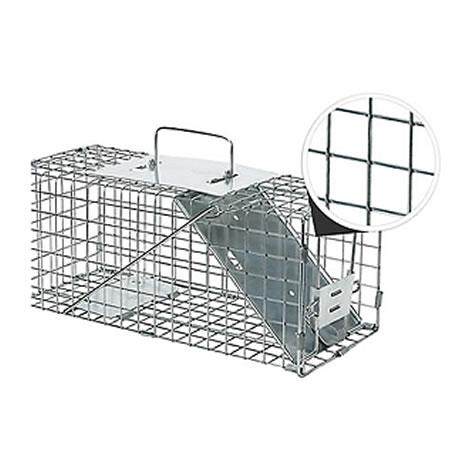 Durable Construction
The Havahart® Small 1-Door Trap is made to last with rust-resistant galvanized steel. The 12-gauge wire mesh design is durable for repeated humane trapping. Solid doors and steel reinforcements contribute to the overall durability of this humane trapping solution and give peace of mind knowing they can securely hold animals inside until the time of release.
HAVAHART® SMALL 1-DOOR TRAP

Model #

1077

Dimensions
17" x 7" x 7"

Weight

4.01 lb

Materials

Galvanized steel

One-piece 12-gauge wire mesh

Number of Doors

1

Door Type

Spring-loaded

Best Used For

Chipmunks

Rabbits

Rats

Squirrels

Weasels