GLOVES DISPOSABLE NITRILE 4 MIL (100) LARGE
Nitrile Glove Description
---
Nitrile Gloves are the perfect compromise between latex and vinyl. Nitrile is made from an allergy safe compound that feels a lot like latex but it's much stronger and is more comfortable to wear. Nitrile is perfect for demanding applications, especially cleaning and dishwashing.
PACKED 100 GLOVES PER BOX, 10 BOXES PER CASE (1,000 GLOVES PER CASE)
The Safety Zone ®
Powder Free Blue Nitrile Gloves

Product Features
MFG#: GNPR-(SIZE)-1M
BLUE NITRILE GLOVES
POWDER FREE
100% LATEX FREE
STANDARD LENGTH (9.65″ +/- 0.25″)
LARGE
PACKED 100/BX 10BX/CS (1,000 PCS/CS TOTAL)
MATERIAL - Nitrile: 100% Latex Free and DINP Free
CUFF THICKNESS - 2.9 mil +/- 0.5 mil
PALM THICKNESS - 3.7 mil +/- 0.5 mil
FINGER THICKNESS - 4.1 mil +/- 0.5 mil
LENGTH - 9.65" +/-0.25"
COLOR - BLUE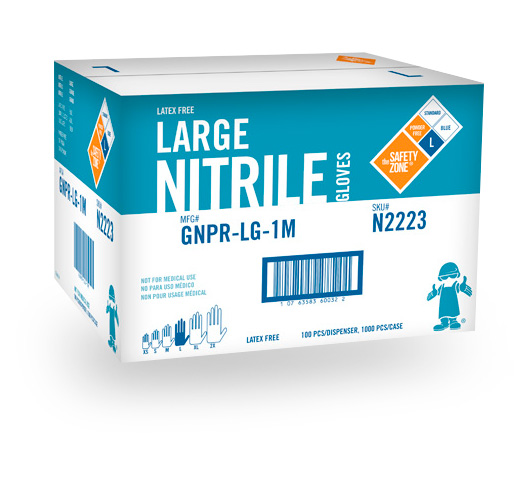 100% Allergen Free

Powder Free vs Powdered Gloves
---
Powder Free gloves go through an extra process of chlorinating the gloves, making it easier to take the gloves on or off.


Powdered gloves are produced with a food grade corn starch powder, making it easier to take them on or off – especially with wet hands.