GARAGE DOOR RODENT GUARD KIT
Order

12

at

$8.50 EACH

Order

24

at

$8.00 EACH
The Garage Door Rodent Guard is designed to be secured to the garage door weather seal in order to prevent the entry of rodents.
This product effectively creates an impenetrable barrier at the lower corners of the weather seal. It can also be used to repair existing damage to the seal. The device is made of metal, which prevents mice from chewing through it in order to gain access.
The kit includes two 6" pieces of metal, two cleaning pads, and two adhesive strips. One kit will complete one garage door.
Made in the USA.
Discounts given for bulk orders, please call for details; 800-674-3236.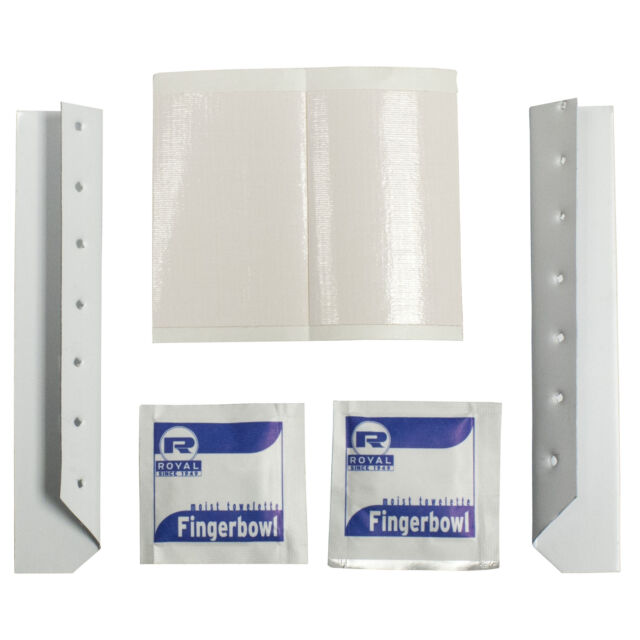 Easy install!
I've been using this product for awhile and believe it works well. However, the guards may come off after a year or two because of the inferior tape included in the box. - Kevin
Good product, Great service
Product was easy to install and is doing its job. Service was outstanding! I ordered online and the shipping was almost double the price of the product. I wasn't thrilled with that, but I needed help keeping mice out of my garage. Within minutes of placing the order, I received an email from the owner stating that he was going to ship it using a less expensive method. Not only did he save me money, it still got to me the next day! I appreciate great service (a rarity these days) and will not hesitate to order from them in the future. - Anonymous
Mouse free
We put these on this fall, and our garage has been mouse free this fall/winter. Highly recommend. - Anonymous
Chip monk problem
Well so far he hasn't been back in my garage .The weather stripping is perfect.

Thank you - Eric
Super easy
Easy to put on and is working great! - Anonymous
House Mouse Defense
Excellent tool to stop the inevitable chewing at the garage door seal. Whne used in conjunction with other rodent exclusion repairs, this product offers a perfect solution to stopping mice from taking advantage of easy entry points. Fast & careful delivery from ATS keeps us stocked up on all of our needs! - Critter Control of Hamilton County, IN
Rodent guard
I have never used these rodent guards before but I can say they are great. Rodents will not chew into these - Anonymous
Rodent guard
I have never used these rodent guards before but I can say they are great. Rodents will not chew into these - Anonymous
Garage Door Rodent Guard Kit
As described, very easy to install. Only issue is the guard is white and our door is tan/almond colored. So far, so good. No uninvited critters in the garage. - Anonymous
Great
Easy to apply and works as discussed. Only thing is there's a tape that goes on to top help hold that didn't look great. (Not visible on picture) Hence the 4 starts. I do also feel this tape will come off fairly soon with our rainy weather. Only time will tell. - Sheila
Do it early
It's best to apply these BEFORE the mice chew up the bottom of the vinyl door seal. The more rubber or vinyl material the metal has to grab onto the better. - Bob Teter
Quick Easy Effective
This product was just what we needed. Easy installation and solved the problem. - Anonymous
Garage Door Rodent Guard
We ordered 4 of these items and so far, they work very well. We had just bought new garage doors and within a few days, a mice chewed the rubber sealant on the bottom. Our company replaced the rubber seal and we put on those guards. No mice attempting to chew on rubber as the guard is metal. Recommend this product! - Carl and Arlene