DUKE SAFETY GRIPPERS
Price

$4.97 EACH

Reg Price

$6.00
Attach these to the jaws of your set conibear traps, while you're setting them in place. These will prevent the traps from going off on your hands and causing injury.
Once body traps are set this item allows you to handle the trap safely until it is positioned. Use with the Duke 110, 120, 160, 220, and the 330.
This item is highly recommended for people not familiar with these traps or when they are to be positioned in difficult or low visibility areas. At this low price it definitely pays to be safe.
Safety Tool Only, does not come with any traps.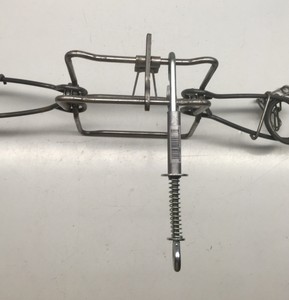 Duke safety grippers
Been trapping 43 years have know idea why I hadn't had one great product - Alan
Avoid the pain
Animal Traps & Supplies had the device I needed at the right price and very fair shipping. They were very helpful when I contacted them by phone. The safety device itself works great. I realized I needed one after catching my thumb in a 220 conibear. It is well made and easy to use. I will go to AT&S in the future for more supplies. - Hawkeye