DUKE HEAVY DUTY SINGLE DOOR CAGE TRAP 28x12x12 MODEL # 1112
Price

$45.95 EACH

Reg Price

$55.00
The Duke Model 1112 Cage Trap is perfect for feral cats, raccoon, opossum, fisher and skunk live trapping.
Don't let the very affordable price fool you the Duke line of Live Cage Traps are one of the best for quality in the industry.
The Heavy Duty Cage Traps feature all steel rod gravity drop doors, bait protected cage mesh, and a complete internal steel rod frame.
All cage trap models are constructed to provide for exceptional durability with no harm to the animal.
These traps have full steel frame construction which increases the durability and longevity of cage traps. This is the cage trap of choice for professional ADC trappers, fur trappers and home owners who want a trap they can use year after year. These cage traps employ an out swing locking door system, a trigger rod and pan system.
These traps also have a carrying handle and handle guard to keep the caught animal away from your hand when picking up and transporting the trap.
Heavy Duty Model is made of 14 Gauge wire that is strong enough a man can stand on it and it will not bend. Bait protected 1/2" Mesh. Welded Rod reinforced gravity door with locking rings. 1/4" Reinforced Rod Frame. Epoxy Coated GREEN.

Easy release by just turning the trap completely over so door releases and animal can run out without you having to get to close to trap while the animal is inside. Always stake the trap down when trapping raccoons, or put some weight on top of it.
Dimensions 28" x 12" x 12". 14 gauge metal and powder coated.
This trap does not have the bait door, so cats can't escape once they are inside. This is our most popular cat trap.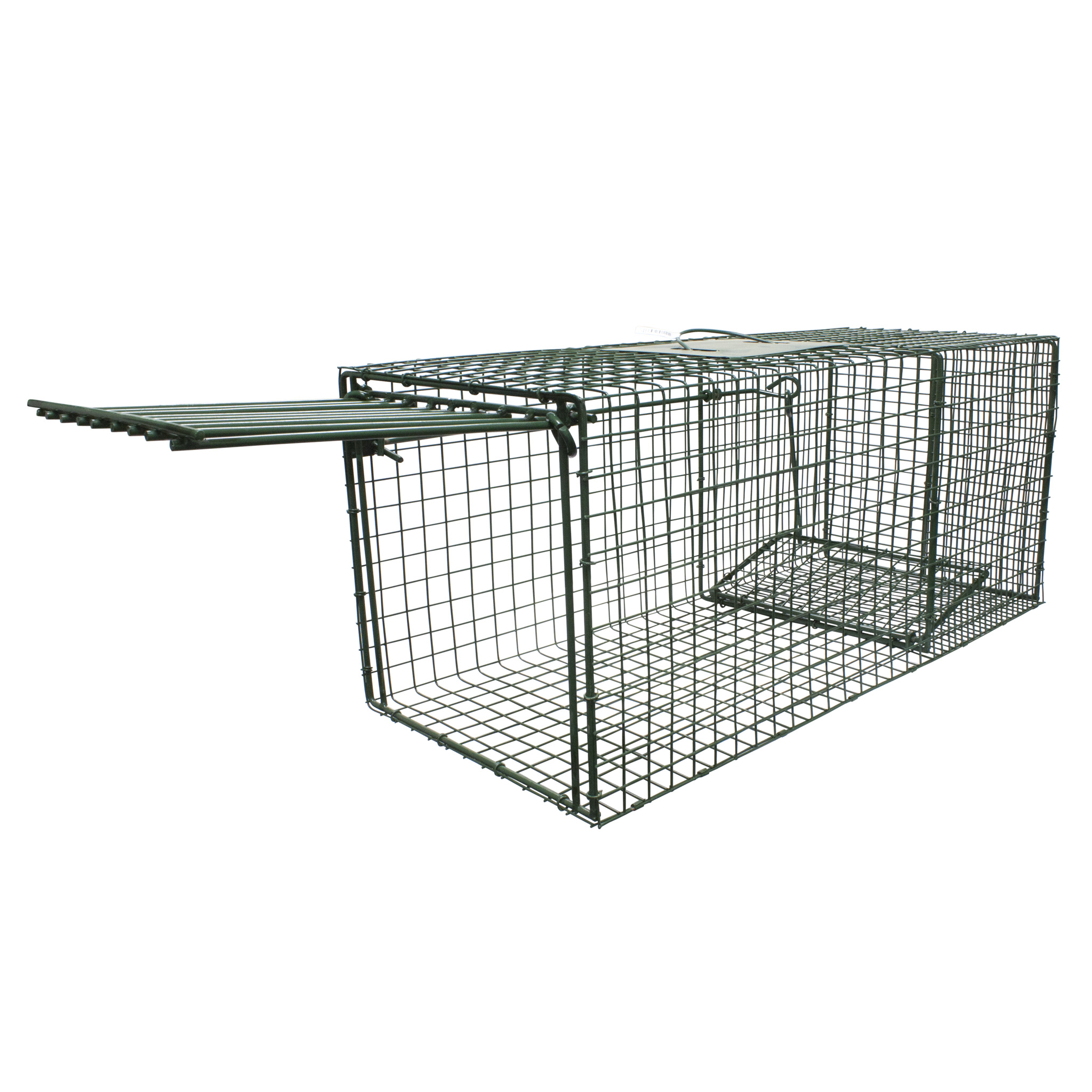 Duke #1112
Very nice traps, bated the traps when I received them 2 raccoons the next morning. Very well built, I would very highly recommend these traps . - Anonymous