Specifications
Every DryerJack® is built tough right here in the U.S. By design, the low profile model 466 is airflow efficient, deters pest entry, and it is still duct cleaning accessible.
Rugged 26 Gauge Galvalume ®

Complies With IMC 504.4 & IRC 1502.3

Flange Includes Nail Holes for Fast Installation

Flange has Rounded Flange Corners for Easier Handling

Built-in 4" Water-tight Collar - Protrudes 1" into Hood 2.25" into Duct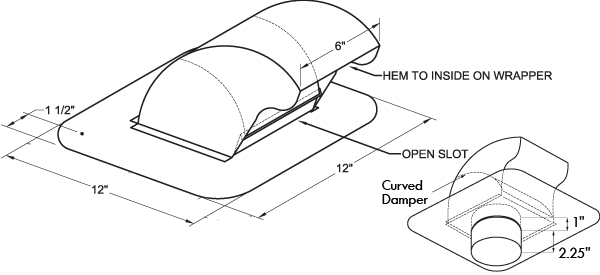 A BETTER ROOF TERMINATION
DryerJacks are the first roof vents designed to meet the more stringent venting requirements of dryer exhaust systems. Unlike the vents shown above-left, the DryerJack affects airflow by less than .01 water column inches of pressure.
Considering that back pressure higher than .6 WCI is generally recognized as inefficient, you can see that venting through the roof with non-dryer specific vents is immediately problematic. The less back pressure is created by the roof vent, the more efficiently the system performs.
The new DryerJack is the most efficient. The position and curvature of the damper, combined with hood size and collar placement, optimize airflow to such a degree that laboratory tests confirm nearly zero reduction in airflow. Terminating the shorter duct run with a DryerJack helps venting through the roof deliver on the promise this shorter route offers.
At less than 5 1/2" above the roof plane, it is also low-profile for minimal visibility. For medium snowfall zones and / or higher profile roof tiles, select the larger model 486 which is as efficient but taller.
A damper design providing substantial defenses to bird and rodent entry

Tuned design providing zero airflow resistance (no back pressure)

Will meet the 2017 ICC code requiring that the passageway not diminish in size

Duct cleaning accessible

Small footprint and low profile "scoop" design

A watertight extended collar for secure duct docking

Heavy 26 gauge Galvalume® metal construction

Nailing flange with rounded corners and 2 nail holes

Equally suitable for new construction or retrofit installation

Superb workmanship and pleasant eye appeal

Available in powder coated in brown, black or white (see below)
The airflow passageway increases 63% (12.56 sq. inch opening to 20.5) through the DryerJack; this along with the curved damper provides zero inches of water column pressure in real-life testing. Note: Not recommended for use with high to medium-high profile roof tiles like Barrel, Spanish S or S-Tile.
Galvalume: A patented alloy of barrier-resistant aluminum and corrosion-fighting zinc gives Galvalume its superior corrosion resistance. Most Galvalume substrates feature an alloy that is 55% aluminum, 43.5% zinc and 1.5% silicon. Tests have proven this alloy superior to the zinc-only coating used in regular Galvanized sheeting. Additionally it is Acrylic Coated, coating designation AZ-55.