Specifications
Every DryerJack® is built tough right here in the U.S. By design, the extra clearance model 486 is airflow efficient, and deters pest entry. It includes a removable access door for easy duct cleaning
Rugged 26 Gauge Galvalume ®

Complies With IMC 504.4 & IRC 1502.3

Flange Includes Nail Holes for Fast Installation

Flange has Rounded Flange Corners for Easier Handling

Built-in 4" Water-tight Collar Protrudes 1.25" into Hood 3" into Duct
The New DryerJack Series hoods are roof vent terminations specifically designed for dryer venting. Its precision tuned design creates no resistance giving a level of performance previously unavailable in the industry. Featuring an industry first curved damper, this sturdy Powder Coated 26 gauge Galvalume® steel extra clearance style vent is best suited for medium snowfall regions, sloped roofs with flat profile cement tiles other composite shingles. Does not provide adequate clearance in height for "S" or Barrel Tile roofs.


Product Features:


• Virtually Impenetrable to Birds and Rodents
• Industry-first curved damper profile
• Radius corners to minimize injury
• Creates no back pressure
• Complies With IMC 504.4 & IRC 1502.3
• Will meet the 2017 ICC code requiring that the passageway not diminish in size
• Built-in 4" Silicone sealed Water-tight Collar
• Duct Cleaning Access Door
• Available in White, or Brown (see below)
• Made in the USA

Specs:


Spec Sheet in PDF format
• 14x12 Inch Flange
• 6" Wide x 8" Body
• Part Number DJK486
• 26 gauge Galvalume® sheet steel
• Hinged, light gauge galvanized steel bird-proof damper
• 4" round collar installed in and silicone sealed in bottom plate
• Carton is 14x14x12 and 4.5 pounds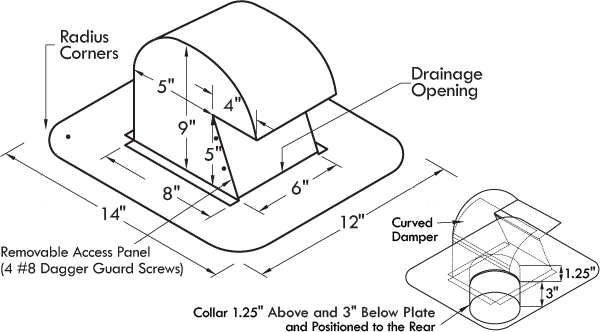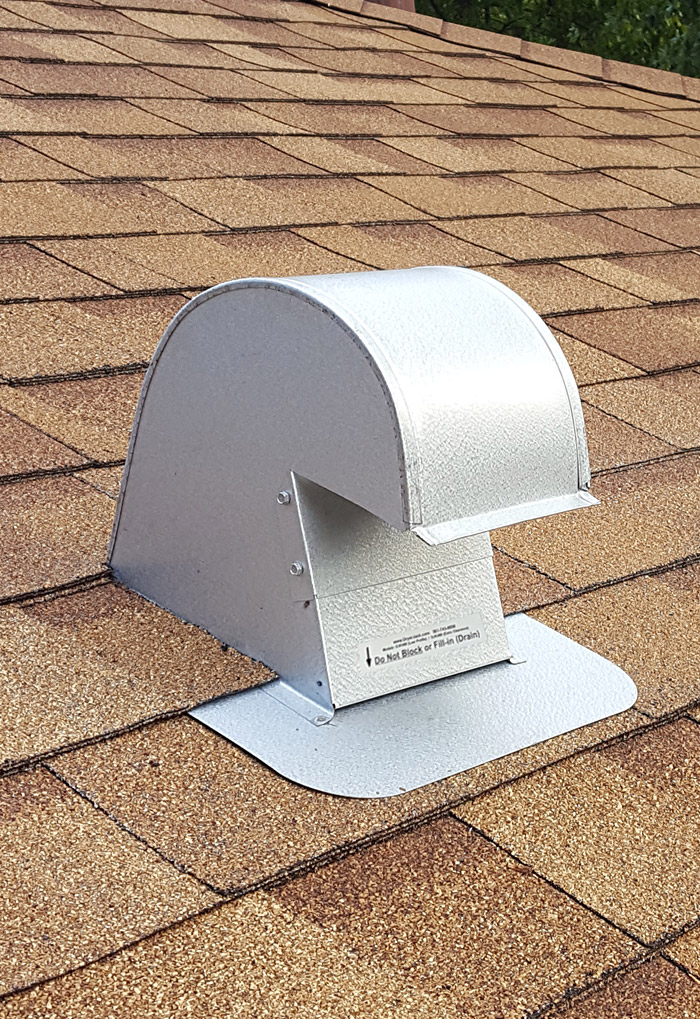 GENERAL: Before installation, ensure that the substrate is uniform and even. Installation shall be made in accordance with recognized sheet metal practices. SMACNA Architectural Sheet Metal Manual 6th Ed. Specifications shall be used as a guide and basis for detail whenever applicable.
NOTE: Recommended use of this product is for exhaust of warm dry or slightly moist air only. This product is not intended for venting of exhaust grease or liquid.
Sloped Roof Installation
Dry-fit the duct work assembly that will run from the dryer to the roof. Draw a circle around the perimeter of the duct work onto the underside of the roof sheathing.

Drive a nail upward through the roof, from the inside to mark the center location of the vent.

Access the roof and locate the nail (where the shingles are lifted up slightly is an indication). Cut a hole slightly larger than the duct pipe of the hood with a reciprocating saw.

Place the vent hood into position and trace the outline of the flashing so you know the areas where you need to lift the shingles to get the flashing underneath.

Lift the shingles on the sides and top of the hole where the flashing will go with a flat bar. Remove the nails that hold those shingles in place by carefully sliding the flat bar between the shingles and the roof sheathing.

Dry-fit the vent to confirm adequate shingle lifting and removal is sufficient. Remove vent and apply liberally roofing cement to the areas of the roof and vent where they come in contact with each other. Install vent, mechanically fasten the flashing plate to the roof deck using nails or stainless steel screws in predrilled holes where possible, making sure the top edge of the flashing is underneath the loosened shingles on the top and sides of the vent so the shingles overlap the edge of the flashing. This helps prevent water from seeping underneath the flashing.

Allow the front part of the flange to lie over the shingles (so water runs down). Apply roofing cement or roofing silicone caulk around the edges of the flashing (DO NOT fill or block the drainage slot on the low side of the vent) as well as a "smear" on each nail head.

Apply roofing cement to the underside of the detached shingles. Apply the roofing cement only to the shingles covering the back and sides of the roof vent's flange.