DRYER VENT THE DEFENDER VENT COVER 8"
The Defender Premium Vent Cover is constructed of zinc coated steel that is also powder coated to deliver lasting protection. Vertical bars keep critters out while minimizing lint buildup and making it easy to clean.
This 8.5" vent cover allows for an exact fit and universal application so the vent termination is aesthetically pleasing. Extra fastener holes make installation quick and easy and it can be attached with as few as two screws to make vent cleaning a snap.
The Defender is the perfect choice to keep out birds and squirrels. While allowing free-flowing air movement, its patented design effectively blocks intrusion by using a system of bars instead of a screen under the hood. While the Dryer Wall Vent is the designer's pick for most venting terminations, there are numerous applications for The Defender. Some of these include harsh weather conditions, deterring human intrusion and where housing dictates a certain type of venting hood.
Available in Tan, and Brown. 8 come to a case.
LIMITED QUANTITES ARE AVAILABLE AT THIS PRICE POINT...
The Defender Model DFR8
The Defender model DFR8 with an inner dimension of 8 inches is specifically designed for medium-sized exhaust terminations. This model is the most popular size for standard venting terminations.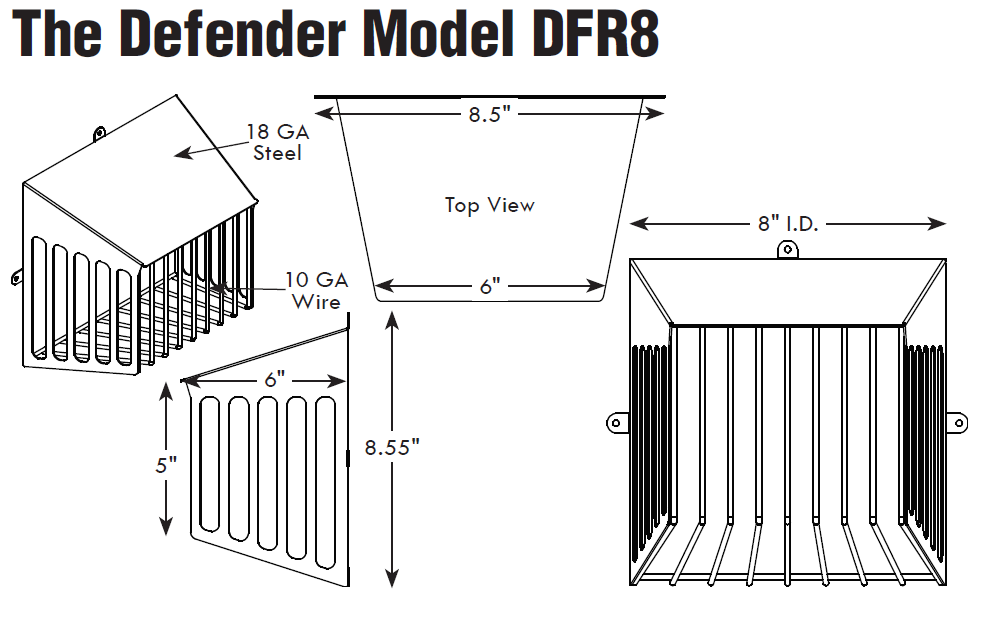 Excluded from coupons
Defender vent cover
High quality product! The best I could find after exhaustive research. Heavy duty metal with durable powder coated paint. Will last a long time - Anonymous
Solid construction
These are high quality vent protectors that are easy to install and look great. The birds will not be nesting in our vents! - Anonymous
Defender Vent Cover
We have used these traps for about a year now and we are very happy with them. Our customers are satisfied with the look of the vents since they are added to the exterior of their home. - Lorin D Newham
Great product
Product came as described. Worked perfectly for our needs. Very effective. - Anonymous
Superior Vent Covers
These are metal, you don't have to worry about the sun deteriorating them or the animals destroying them. There is plenty of room for the lint from the dryer to escape so the risk of fire is eliminated. Several colors to match your home or trim on home. These are the best. I have recommended to several of my neighbors. - Rodney
Great product
Durable and easy to mount - John B
Bullet Proof
Strong construction! Well made and simple to install. No need to remove the old vent or ducting. Just size it to fit over the existing vent. - Dave Mc
Sturdy but inhibits vent cleaning
To access the dryer vent for cleaning, all 3 screws must be removed from the vent cover. I would prefer a design that would allow it to be opened for cleaning without removing it from the wall.

Well made and sturdy. Superior to the typical vent covers found in box stores. - Karl