DRYER VENT THE DEFENDER VENT COVER 6.5"
The Defender Premium Vent Cover is constructed of zinc coated steel that is also powder coated to deliver lasting protection. Vertical bars keep critters out while minimizing lint buildup and making it easy to clean.
This 6.5" vent cover allows for an exact fit and universal application so the vent termination is aesthetically pleasing. Extra fastener holes make installation quick and easy and it can be attached with as few as two screws to make vent cleaning a snap.
The Defender is the perfect choice to keep out birds and squirrels. While allowing free-flowing air movement, its patented design effectively blocks intrusion by using a system of bars instead of a screen under the hood. While the Dryer Wall Vent is the designer's pick for most venting terminations, there are numerous applications for The Defender. Some of these include harsh weather conditions, deterring human intrusion and where housing dictates a certain type of venting hood.
Available in White, Tan, and Brown. 8 come to a case.
Quantity discounts are available, save 10% by calling 231-252-4450.
The Defender model DFR6 with an inner dimension of 6.5 inches is specifically designed for small-sized exhaust terminations. The smaller size means a lower profile.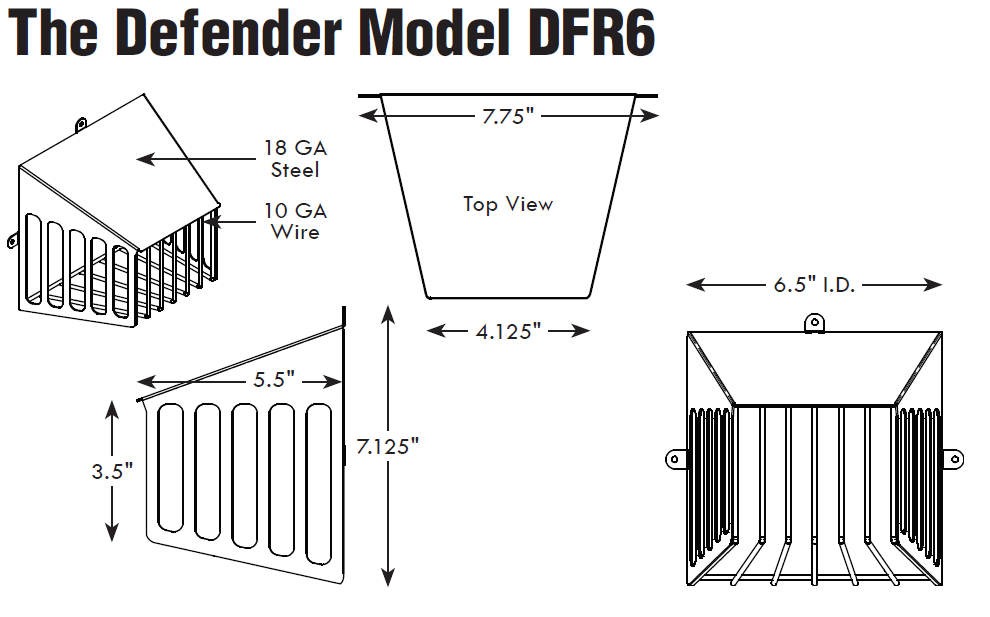 Defender dryer vent cover
The Defender is an excellent product and ATS does a great job getting it to us with super fast shipping. You can beat the metal cover of the Defender for life long protection that looks great! - Ron Pope
Good looking product
Good quality product. Looks nice and the different colors make it easy to match siding. - Steve W
A suburb defense
The Defender provides a great line of defense against birds and squirrels trying to breech exterior vents. Installing the vent is quite straightforward in most applications. The final look is clean and it is nice knowing you can walk away from the vent knowing it has lasting protection. - Joe T