DRYER VENT PREMIUM
Order

8

at

$28.50 EACH

Order

48

at

$27.50 EACH

Order

96

at

$26.50 EACH
Durable Dryer Wall Vent Termination
Engineered for a quick, perfect fit for new construction and vent replacement, this stylish, well-built vent meets or exceeds all requirements for safe dryer venting. 26 gauge galvanized steel and powder coated, available in white, tan and brown, they're the last wall vent a home will ever need.
Made in the USA.
HIGH PERFORMANCE
LOW PROFILE
At five paces, you can tell it's well made. Thanks to a low profile and clean lines, you might not even see it at twenty.
Premium Grade Vent Terminations
Quantity discounts are available, save 10% by calling 1-800-674-3236.
8 to a case.
26 Gauge Galvanized Steel Body

Heavy Powder Coating in White, Tan or Brown

30 Gauge Steel Damper (Lighter to Minimize Restriction)

Intrusion & Flap Prevention Balanced Damper Magnets

Quiet Closing Rubber Damper Bumpers

Can Be Used for 70 CFM or Higher Bath Vents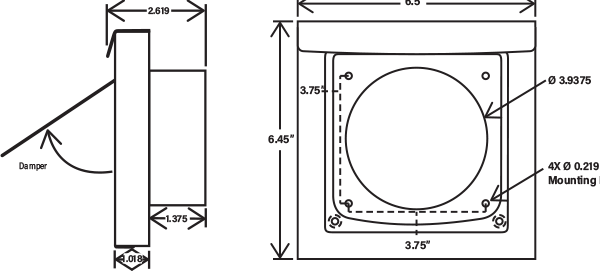 Dryer wall vent
Extremely well made for the outside of the house. Have looked at many vents and found this to be the best out there. - Specht
Great Product
This is a great product! There is no way an animal can get into my dryer vent! Also, I had a bad smell coming from my yard. It was seeping into my dryer through the old vent. After installing this new vent, the smell left my dryer! - C. C.
Quality build and stylish looks
This is my second one. The first I purchased for a dryer about 4 years ago, this one I used for a bathroom vent. The construction is solid. The finish has weathered quite well with no yellowing or oxidation. There have been no bird or small animal intrusions. The close fit makes it difficult for them to open. This is an important factor when mounting on second story. Most building codes do not permit cages or wire screens over dryer vents (fire hazard from lent build-up). Plus, the full opening allows for a vent brush to push through. - Anonymous
easy to install
I have found these to be an easy sell. They work well and install quickly and easily. They look great also. Works well for exclusion, since animals can exit, but not re-enter. - Anonymous
Dryer Wall Vent
I was looking for a minimalist style of vent to replace the old shrouded style we are all so familiar with. After looking at features, material and ease of installation, I decided to buy this model. Everything about the transaction and merchandise were just as promised with no issues or concerns. Very happy with my choice of company and product. - Anonymous
Perfect Vent Cover
Well made, quality vent cover. Will withstand the coastal elements. - Dai
Perfect Vent Cover
Well made, quality vent cover. Will withstand the coastal mements - Dai
Game Changer for Animal Entry Prevention
These are GREAT. Can't be opened from the outside, even by the craftiest of critters! Install easily & hold up to elements better than any other product on the market. We recommend them to EVERY home we service & the folks at Animal Traps & Supplies keep us stocked up, even when we need more in a hurry! - C. C.
Dryer wall Vents
This is a very durable product that is easy to install on most homes (unless so crazy mortar work has been added. - N.
Durable and attractive
This is my second - for a new home. It's solidly constructed, does not show signs of wear, does not collect lint and keeps even insects out. - Kay