DRYER VENT PREMIUM FLUSH MOUNT DWV4
Price

$40.69 EACH

Reg Price

$41.95
Durable Dryer Wall Vent Termination
Engineered for a quick, perfect fit for new construction and vent replacement, this stylish, well-built vent meets or exceeds all requirements for safe dryer venting. 26 gauge galvanized steel and powder coated, available in white, black, tan and brown, they're the last wall vent a home will ever need.
Made in the USA.
The new deep drawn DryerWallVent is manufactured with a built-in drip edge, gravity-assist damper, and integrated magnets for extra protection. The secondary backing plate allows for a wider fastener footprint.
Dryer Vent is 6.5" Tall, 6.5" Wide, 1" Deep
Premium Grade Vent Terminations
Quantity discounts are available, save 10% by calling 231-252-4450.
Free Shipping on 96 or more to the lower 48 states.
8 to a case.
26 Gauge Galvanized Steel Body

Heavy Powder Coating in White, Black, Tan or Brown

30 Gauge Steel Damper (Lighter to Minimize Restriction)

Intrusion & Flap Prevention Balanced Damper Magnets

Quiet Closing Rubber Damper Bumpers

Can Be Used for 70 CFM or Higher Bath Vents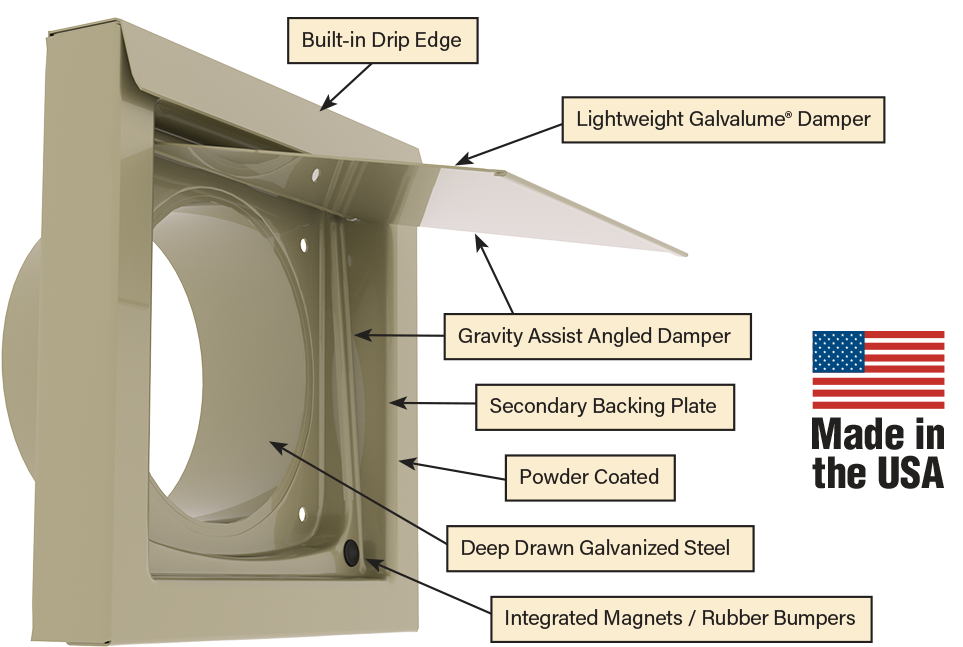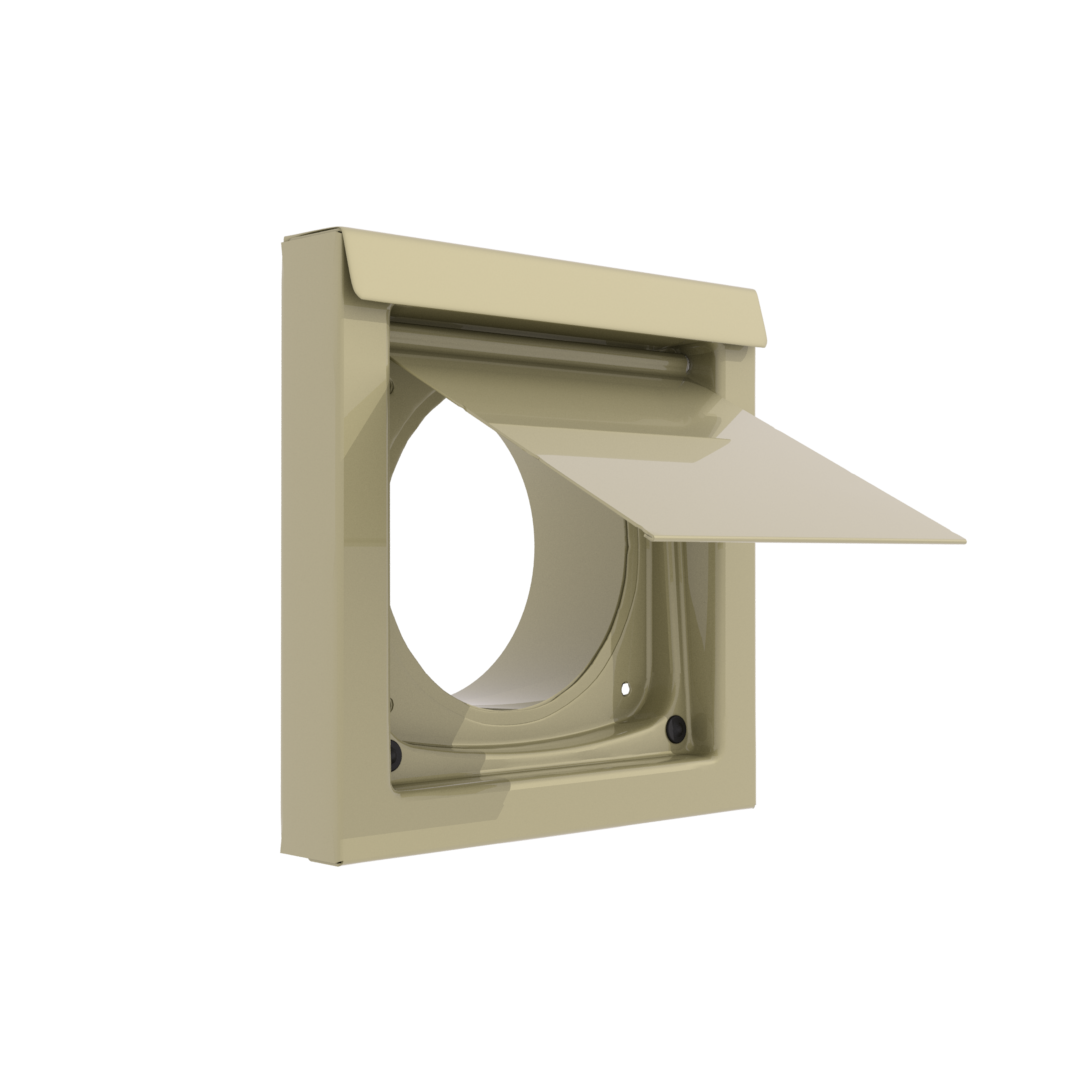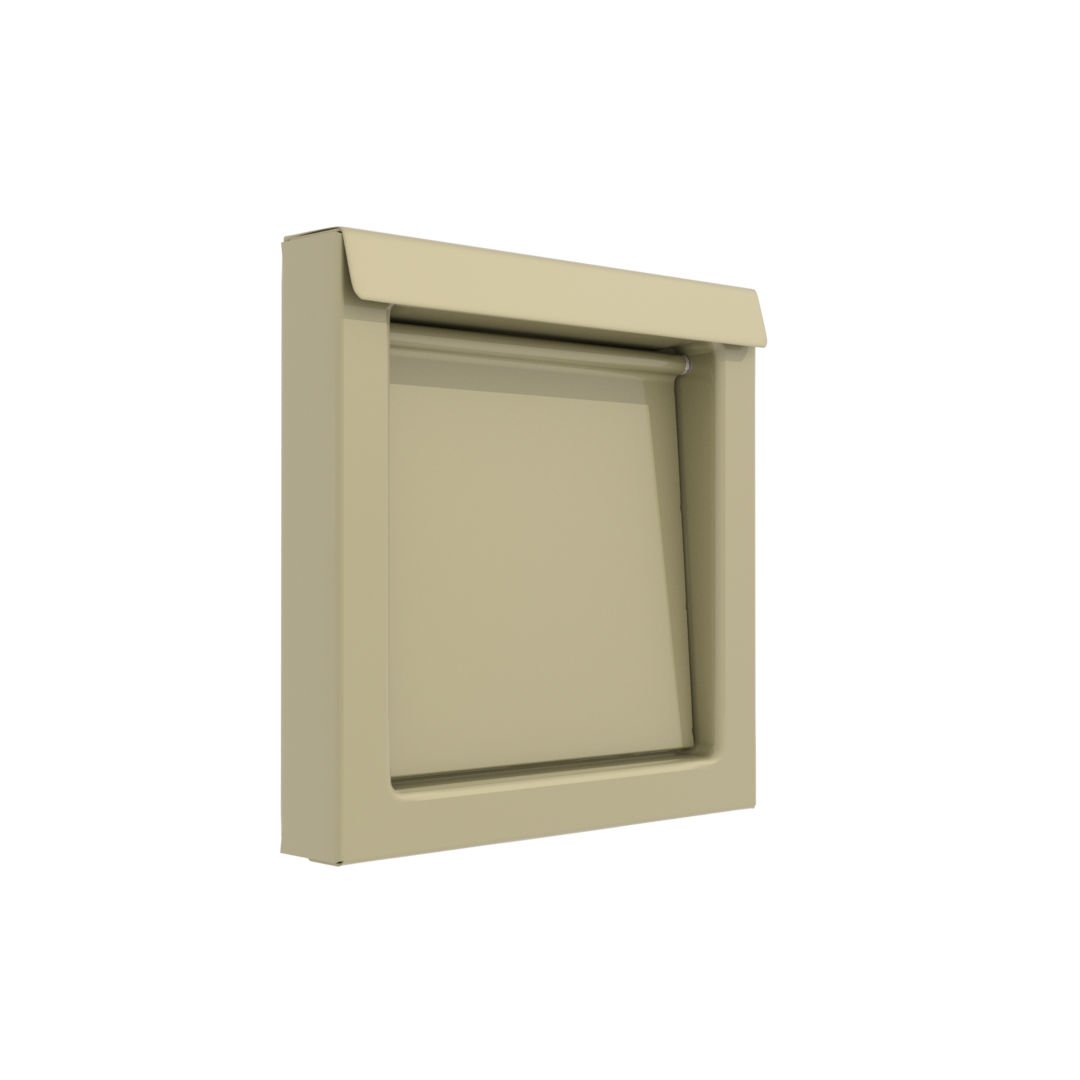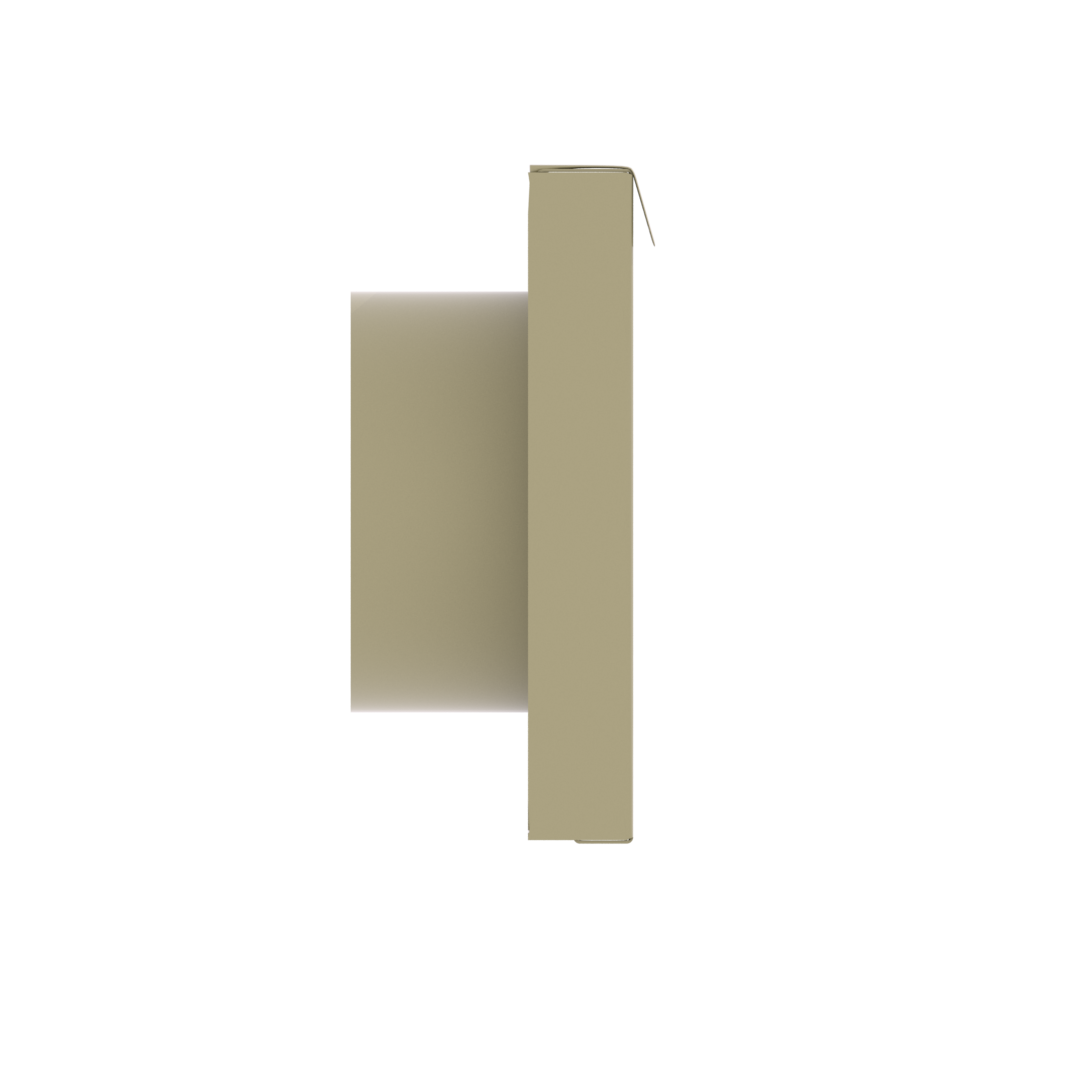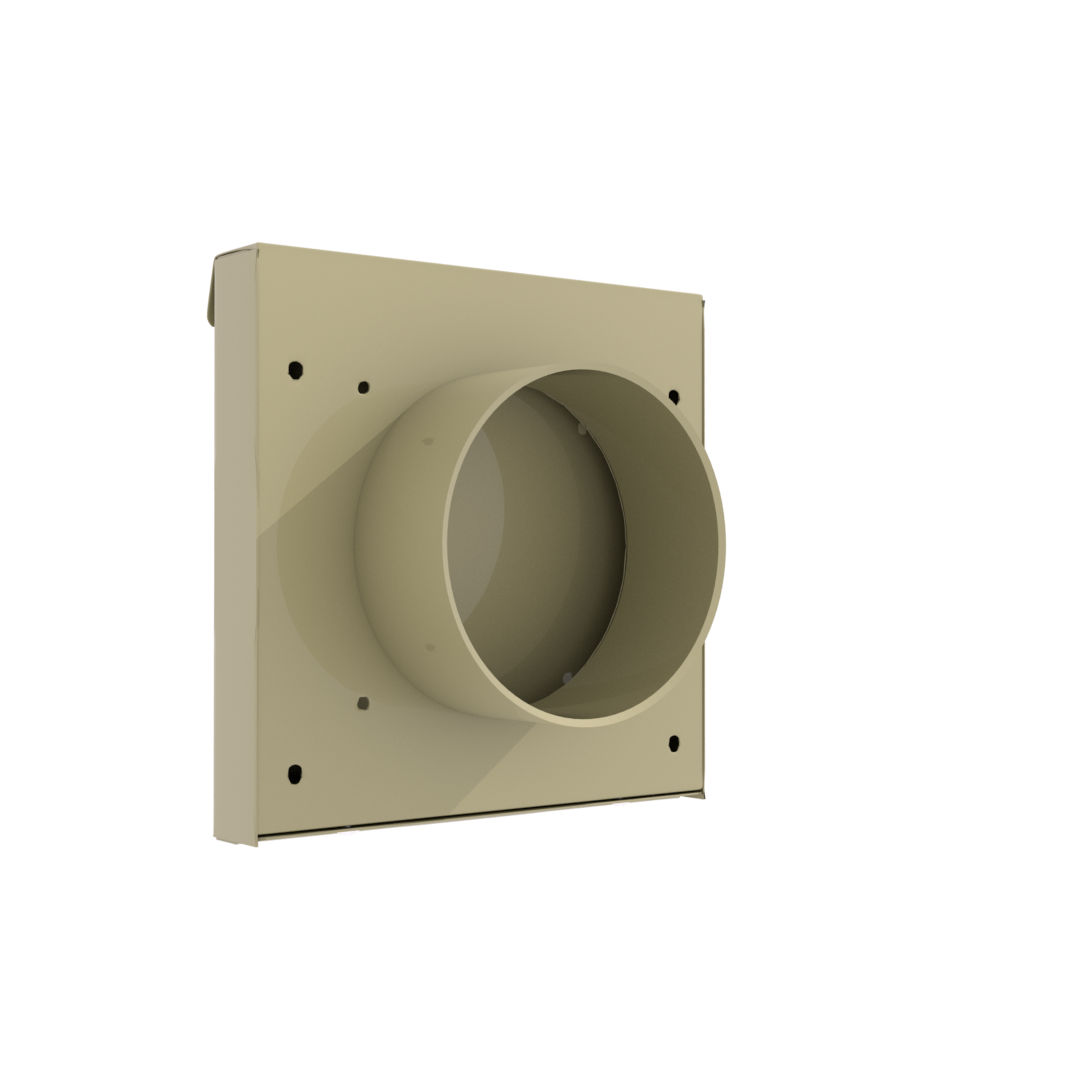 Model Numbers
White: DWV4W, Tan: DWV4T, Brown: DWV4B, Black: DWV4K
Hole spacing side to side – 4" OC
Hole spacing top to bottom – 3.5" OC
Standard Install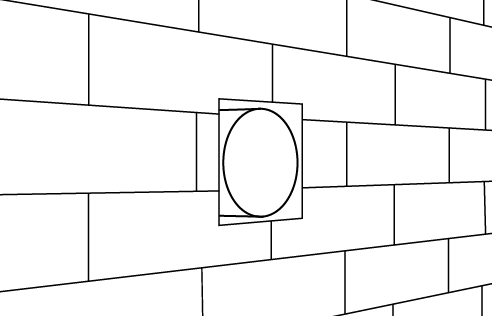 STEP ONE
Confirm that 4" duct is flush to the exterior substrate.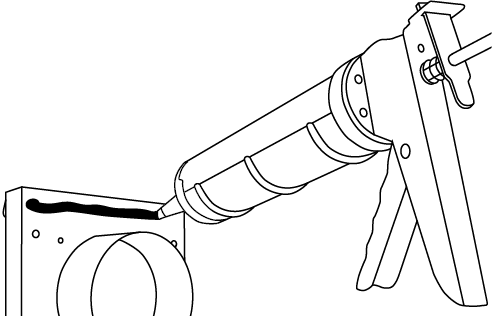 STEP TWO
Add sealant around the perimeter of the backing plate.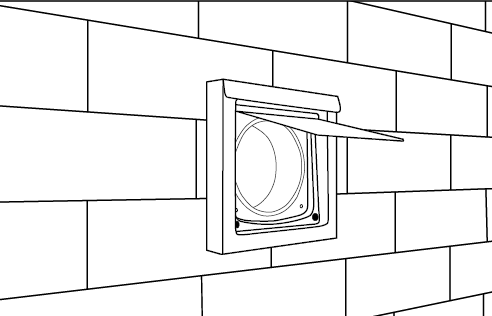 STEP THREE
Insert DryerWallVent collar into 4" duct. *If installing a No Collar unit, align opening with duct and skip to Step 4.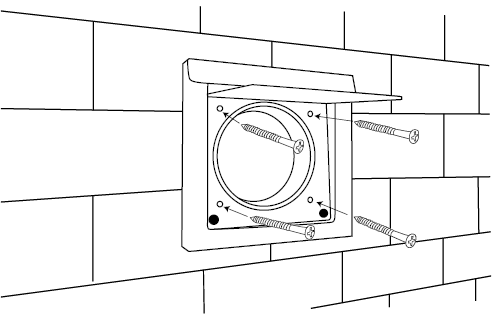 STEP FOUR
To secure to the substrate, install exterior rated fasteners through the inner screw holes.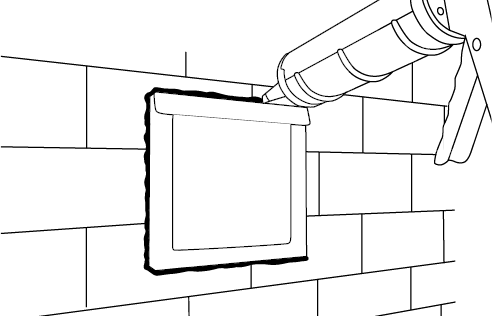 STEP FIVE
Apply sealant to all sides in contact with final exterior surface.
Tip: Bottom may be unsealed to allow for weeping.
Backing Plate Install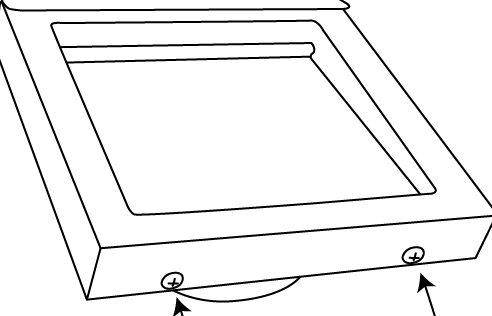 STEP ONE
To expose the fastener holes on the backing plate, remove the two #6 screws on the bottom of the DryerWallVent.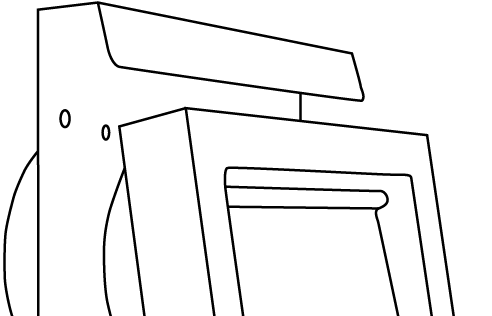 STEP TWO
Remove the damper assembly.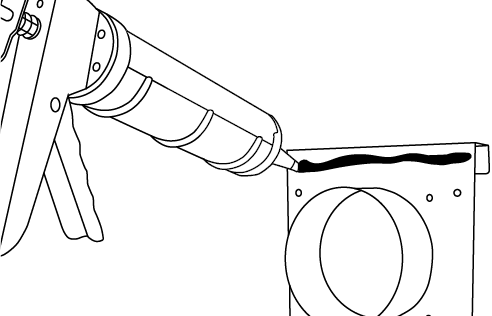 STEP THREE
Add sealant around the backing plate perimeter.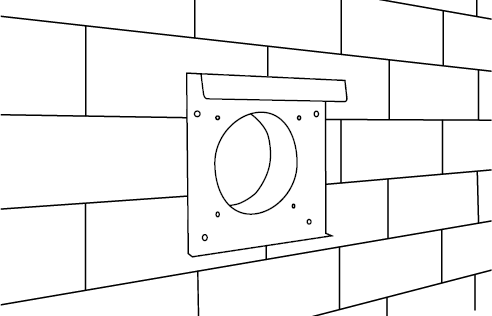 STEP FOUR
Insert DryerWallVent collar into 4" duct. *If installing a No Collar unit, align opening with duct and skip to Step 5.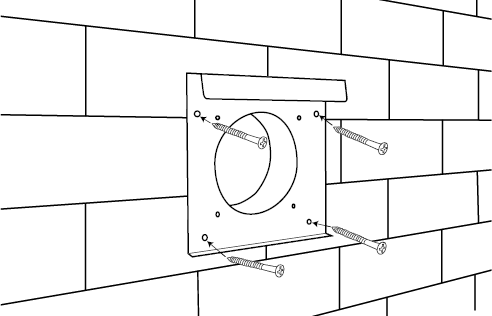 STEP FIVE
Install exterior rated fasteners through the outer backing plate holes.
STEP SIX
Insert under the drip edge and secure bottom with the #6 screws.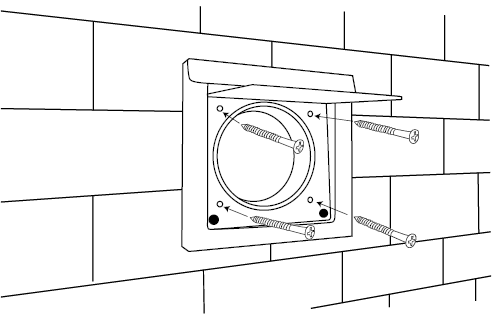 STEP SEVEN
For added security, #14 exterior rated screws may be used in the inner screw holes.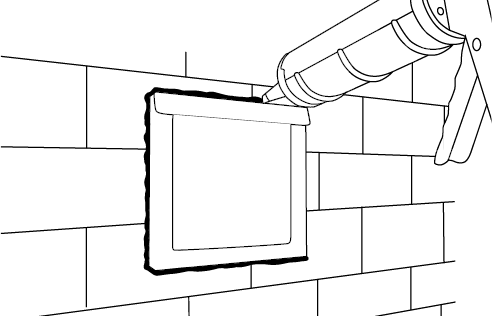 STEP EIGHT
Apply sealant to all sides in contact with final exterior surface.
Tip: Bottom may be unsealed to allow for weeping.
Dryer wall vent
Extremely well made for the outside of the house. Have looked at many vents and found this to be the best out there. - Specht
Great Product
This is a great product! There is no way an animal can get into my dryer vent! Also, I had a bad smell coming from my yard. It was seeping into my dryer through the old vent. After installing this new vent, the smell left my dryer! - C. C.
Quality build and stylish looks
This is my second one. The first I purchased for a dryer about 4 years ago, this one I used for a bathroom vent. The construction is solid. The finish has weathered quite well with no yellowing or oxidation. There have been no bird or small animal intrusions. The close fit makes it difficult for them to open. This is an important factor when mounting on second story. Most building codes do not permit cages or wire screens over dryer vents (fire hazard from lent build-up). Plus, the full opening allows for a vent brush to push through. - Anonymous
easy to install
I have found these to be an easy sell. They work well and install quickly and easily. They look great also. Works well for exclusion, since animals can exit, but not re-enter. - Anonymous
Dryer Wall Vent
I was looking for a minimalist style of vent to replace the old shrouded style we are all so familiar with. After looking at features, material and ease of installation, I decided to buy this model. Everything about the transaction and merchandise were just as promised with no issues or concerns. Very happy with my choice of company and product. - Anonymous
Perfect Vent Cover
Well made, quality vent cover. Will withstand the coastal elements. - Dai
Perfect Vent Cover
Well made, quality vent cover. Will withstand the coastal mements - Dai
Game Changer for Animal Entry Prevention
These are GREAT. Can't be opened from the outside, even by the craftiest of critters! Install easily & hold up to elements better than any other product on the market. We recommend them to EVERY home we service & the folks at Animal Traps & Supplies keep us stocked up, even when we need more in a hurry! - C. C.
Dryer wall Vents
This is a very durable product that is easy to install on most homes (unless so crazy mortar work has been added. - N.
Durable and attractive
This is my second - for a new home. It's solidly constructed, does not show signs of wear, does not collect lint and keeps even insects out. - Kay
Solid product
Well built, attractive and uncomplicated. - Dale H.
Very nice vent, glad I ordered it.
The actual vent differs from the picture. The frame is symmetrical and welded at all 4 corners, no overhang as shown. The construction is very substantial, and with the recess door opening it from the outside is extremely difficult, so I have no doubt it will keep the critters out. Since there is no welded wire or screen inside, keeping this vent clean should be a breeze. The small magnets on the door keep it positively shut. The door has a weather-tight seal but not air-tight seal. I'm considering adding a little weather stripping around the 4" opening under the lid to make it airtight. - BK
Great product!
Great quality and design for the money. - Mitch and Carrie
Great replacement
I am replacing all my outside exhaust vents with this superior product. The original plastic louver covers became brittle and broke into pieces. I expect these covers to withstand the elements and function much better. The magnetic seal stops the unpleasant flapping noise in windy conditions. - Brian K.
Dryer Vent Cover
Exactly what we needed. Excellent service. - Anonymous
Premium dryer vent
Excellent dryer vent!! Looks great, works well and was relatively easy to install. - Keith R.
Vent perfect fit
Love the design of the vent - and the fact it is sized to fit the ID of a 4 inch pipe making for easier installation. The 1 inch thickness makes it fit well with many siding applications. Great product - a little expensive - would be nice if cost was more inline with cheaper vents (or a little closer). Overall still love the simplicity of the design and install ease. - Anonymous
This is my favorite vent on the market
By far the most elegant and solid vent I have installed on any house. Exceptional build quality, doesn't get clogged, and is brilliantly simple in stopping pests from coming in. Going to be my event of choice for all future installs of dryers and bathroom vents - Forest Byrd
Dryer Vent
Product looks great and is as heavy duty as advertised. The installation looks easy, but won't install till spring when it's warmer outside. Was a little surprised that a dryer vent came from an animal trap supply store. Checked order three times to make sure it was right. Very happy with results. - Albert
Best dryer vents I've ever used
I haven't been able to find these or anything like them anywhere on the shelves, but I'm so happy that they exist. Extremely sturdy construction and A door that doesn't allow little critters to get in. Reliable and quiet design. I use it for all my projects and stock up on them. - Forest
Good product
I did some research and decided to go with this vent. Installation was a breeze and is performing well. No regrets. - KS
Ultimate in design for easy installation
I made the mistake of buying a flimsy dryer vent at the big box store, that fell apart just looking at it!
Learn from my mistake!
This is the perfect dryer vent. Its two piece assembly makes installation a breeze. The low profile design, recessed door and steel construction keeps the critters outside.
My only regret is I didn't find this vent sooner. - Robert
Extremely happy with my purchase ...
This vent is very high quality metal with powder coat white paint. It looks amazing compared to all the plastic vents you'll find in the big-box stores. It also has magnets to hold the flap shut when not in use, as well as, rubberized bumpers to make the flap quiet. I am so glad I found this for my basement finishing project (bathroom fan vent). I highly recommend this product if you are looking for a clean and professional look.
- Kim S.
Dryer vent
I have nothing but good things to say about this company and the products I've used. Customer service is excellent and their pricing/ shipping costs far exceed those of other companies I've used in the past.
Highly recommend - Jim
Premium Dryer Vent
Extremely satisfied. Received with a week. Well constructed, excellent finish. - Bill
Attractive vent for custom homes
Sturdy product - Anonymous
Flush mount dryer vent
Easy install good product - Anonymous