DRYER VENT GUARD HY-C
Easy to install over most 3" or 4" dryer or bathroom exhaust vents. This unit is an effective barrier to small animals, such as birds, squirrels and other rodents. Keeps animals from nesting or entering your home thru vents.
Made entirely of 100% heavy-duty 304 stainless steel mesh that will not rust or corrode. Animals CANNOT chew through the strong, durable stainless steel mesh.
White powder coat finish is durable and blends into most exterior surfaces.
Easy on/off keyhole for cleaning and removing lint.
7" Wide at the base, 6" wide at the end, 5" deep.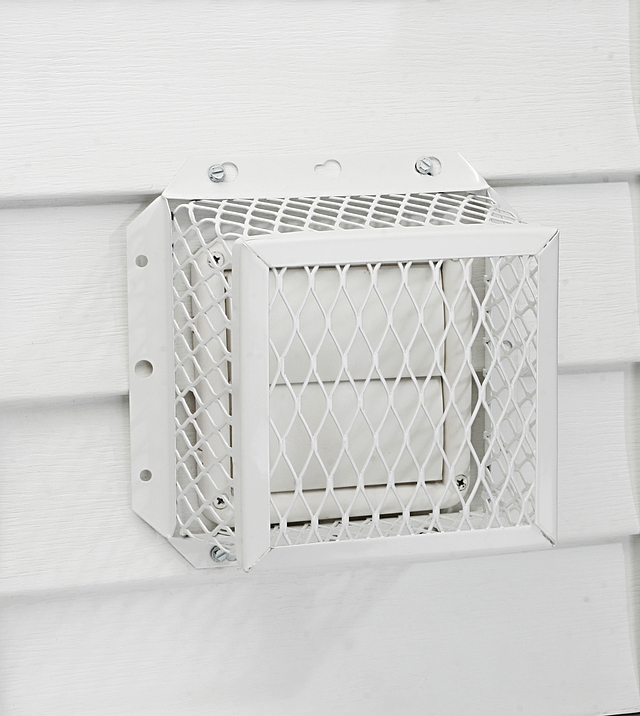 Dryer Vent Guard
This is a great vent cover/guard. This goes over the dryer vent I currently have and lets all the lint, air etc out without
blocking the dryer vent. Great to keep animals out of my dryer vent.

Will order another one if I ever move. Will leave at the house even though it it very early removable.

- Anonymous
Great product - Anonymous
Mice in dryer vent hose.
mounted easy and works great. No more mice. - Anonymous
Perfect!
It was a pleasure doing business with Animal Traps and Supplies. We recently had the stucco removed from 7 condominium units at the Jersey Shore and replaced with siding. Birds are a problem at the shore nesting in the dryer and exhaust fan vents. We needed to provide protection from the birds nesting and the previous plastic vent guards dry rotted due to the sun. I went on the internet and found metal dryer vent guards for half the price of anyone else at Animal Traps and Supplies. I put in an order online for (17) vent covers and they arrived a few days later. Shipping was quick at a reasonable cost. Our contractor put them up and they look great and will last forever. - Tom W
Great product
The product is well made and reasonably priced. It looks great on my home and shipping was very fast as I received my order before I expected.
- Ken
dryer vent
This products is rigid, strong. - Anonymous
Dryer Vent Guard HY-C
These bird cages are much better than the ones we previously used.
They are much more durable and weather resistant. - Anonymous
Great Product!
Great Product! - Anonymous
Easy to Install
Very easy to install. The reason for 4 starts instead of 5 is because I don't know if it is going to keep mice from entering my dryer hose and get into the house. - Dryer Vent Guard HY-C
Great product
Durable last for a very long time to keep critters out of the vents - Anonymous
DRYER VENT GUARD HY-C
The product is great, company was great to work with as well. Items arrived promptly. Thanks. - Anonymous
Keep birds out
Easy to install, durable metal guard protects vents from animal entry. - Anonymous
Solid and Secure
Easy to install. Paintable. Sturdy. We now have no fear of animals sneaking in. Great product. - Martin Johnson