DK-2 WOOD BOX GOPHER TRAP
Order

6

at

$13.39 EACH

Order

12

at

$12.59 EACH
Similiar to the Wooden Choker Trap, but the trigger is activated by a pushing motion, as the gophers try to fill the hole in the rear of the trap, instead of a pulling motion, like the baited Wooden Choker Trap.
Find a fresh mound and dig open the tunnel entrance. Place the trap flush to the tunnel opening. Pack loose dirt around the base of the trap. Be sure to leave the light hole open -- so the light and air will bring the pocket gopher back to plug the hole. When they push dirt against the triggering mechanism they wil be captured.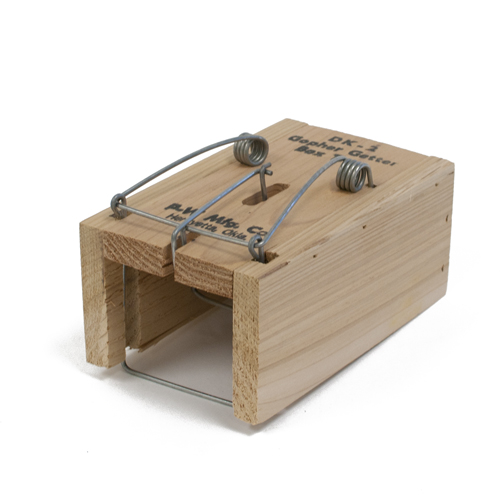 gopher traps
took a while to learn how to place them but it was successful. - Anonymous
Moles
Tried for 2 weeks and nothing he dog around it below it and even filled it up with dirt. - Scott
Great trap... 99.9% success rate with this trap.
Ordered and got traps in a timely manner.... cost was very competitive.... will buy all my traps here. - Marty
Gopher trap
We have used other traps but, this one has proved to be a better trap. - Anonymous
Works great
Have already caught 9 on my property - Johnny from Jennings