DK-1 STEEL GOPHER TRAP (12pk.)
Price

$49.99 EACH

Reg Price

$54.99
Death Klutch Gopher Trap Model DK-1
This trap finishes the job poisons start. Gophers cannot escape death klutch. Easy to set and satisfaction guaranteed. Set the trap in a fresh hole no more than several days old. Move away mounded dirt, poke around to find hole and clean out loose dirt.
The DK-1 gopher and mole trap is made of high quality steel wire for extra strength. Works exceptionally well when properly set in runways.
Instructions included. Easy to set.
12 traps per box. $4.16 each at the case price.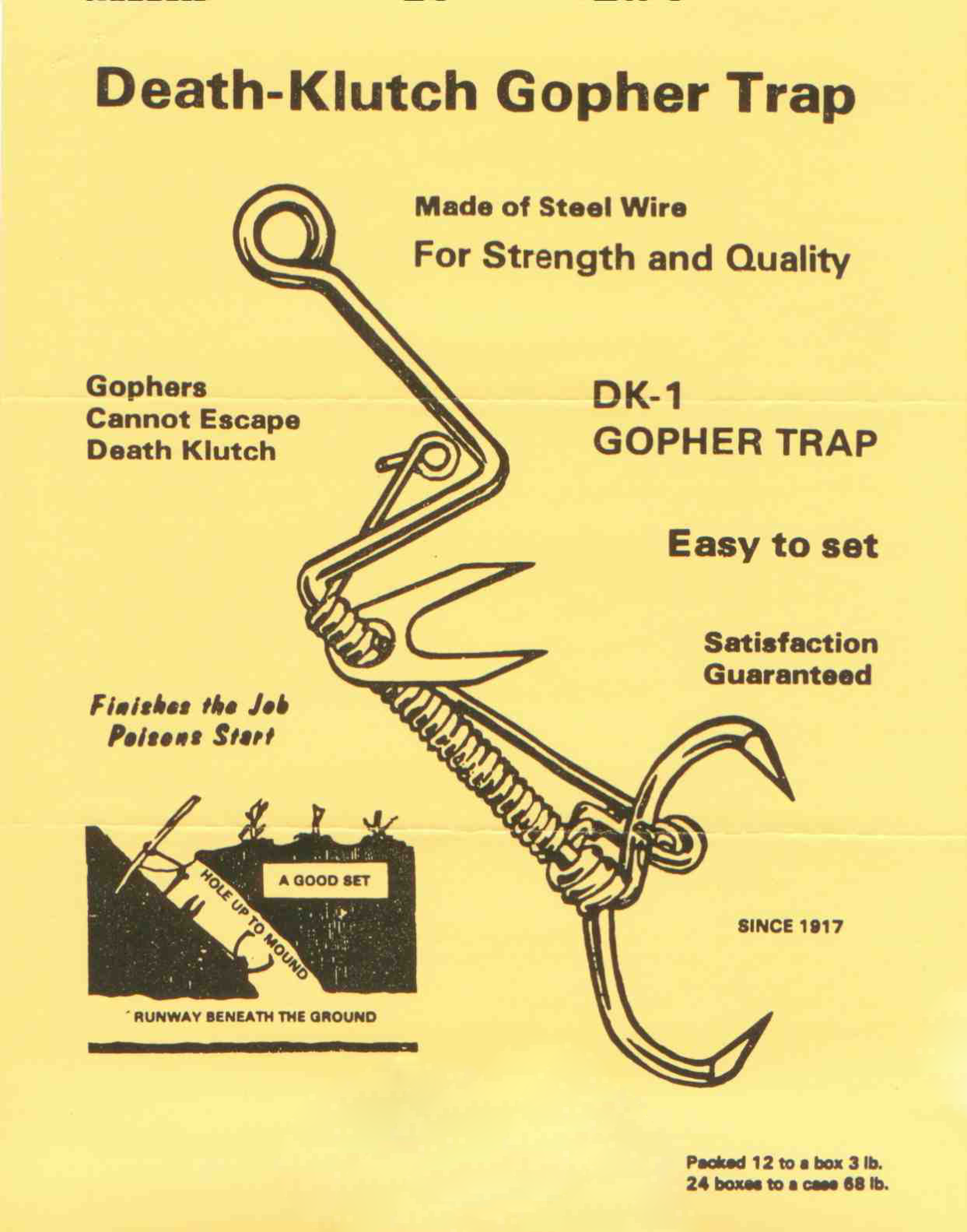 DK-1 Gopher Traps
Traps work great and will probably order more for the future!!! - Anonymous
Good Product
Very good Traps fast shipping - Anonymous
DK-1 Gopher Trap
This is the most reliable gopher trap I have ever used. It's tougher than nails, and I would recommend the DK-1 to anyone looking to remove their gopher problem. - Anonymous
Works well
More catches than misses. I personally would prefer the trip wire to be a tad shorter because our gophers are smaller but I can't complain.. I've tried many different traps and this one is a favorite... - Jeremy W.
Work great
Work great easy to set up - Anonymous
DK 1 review
Since moving to a rural residence 33 years ago, dealing with gophers has been a daily chore and I have caught 100s with the macabe and then the cinch trap. The macabe does not trap the big ones and though the cinch trap is good it demands a large hole to insert into the tunnel, the shape is not good for all situations, the metal pieces that set the trap fall off and often does not go off. I read about the DK1 gave the traps 2 coats of rust proof paint. The trap is not the easiest to set but after a few tries, one learns the procedure. It is compact and fits in any hole. The part that catches the gopher is in the center of the trap unlike the cinch which is set to one side. As long as the DK 1 is inserted to a tunnel with a downward slope there is no issue, however when placed into a level tunnel I have found it necessary to put dirt under the handle to keep the front down. Have caught 6 since receiving. - Mihajlo Petrovic
Best pocket gopher trap
I've been using the DK-1 for pocket gopher for years. Best trap out there! - John