COOL VAC Vacuum Saver
Attic insulation contains objects impossible to avoid, causing catastrophic damage to the fan, chamber, and engine. Our Cool Vacuum Savers are the answer to vacuum machine damage. The Vacuum Saver is an inline device that catches machine damaging objects before they reach your vacuum. Simply connect the unit in the suction line, in front of the vacuum, and continue with your job.
VACUUM SAVERS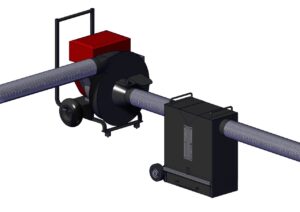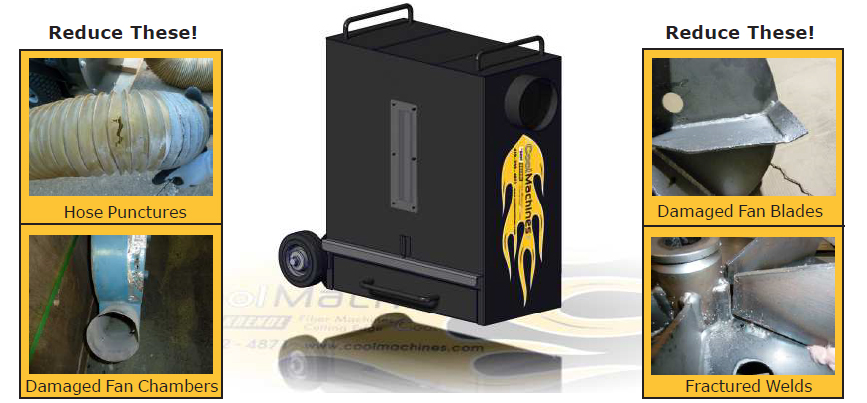 Process: Shut-down required for emptying
Designed for use with all our vacuums

Economical solution to protect your vacuum

Large access door allows the unit to be cleared of collected debris
Protect Your Insulation Vacuum!
Cool Machines has developed a "deflecting particle accelerator." This will separate and remove 99% of solid objects from your vacuum stream BEFORE it reaches the machine. You will not lose vacuum performance!
Damage from abuse is not covered under warranty. So, protect your machine from shock and damage. The debris still runs through your vacuum. Over time, your engine takes a beating and can shorten bearing and engine life. If you are recycling wall spray, these objects can cause your machine to lock-up and damage the airlock seals.
The cost of this Vacuum Saver module can pay for itself the first time you damage the impeller blade or chamber.
PLEASE CALL 1-800-674-3236 FOR A SHIPPING QUOTE, OR EMAIL SALES@ANIMALTAS.COM WITH THE SHIPPING ADDRESS.
Excluded from coupons